Your AR-15 handguard has huge implications in terms of how much you enjoy your shooting experience. After all, with the wrong handguard in place, your rifle will feel extremely uncomfortable. Which will almost assuredly make you less accurate as you are forced to direct some of your focus on your hands instead of keeping all of it on the target ahead.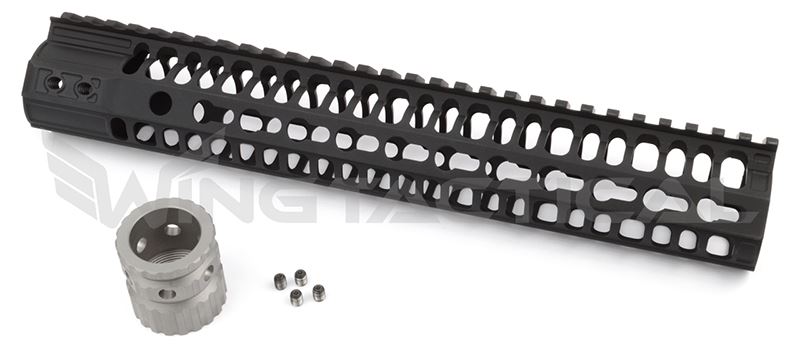 Aside from the functionality, AR-15 handguard/rail systems also have an impact in terms of how your weapon appears aesthetically. The hardware will also enable you to add certain accessories to your rifle (or limit you from adding other kinds of accessories to it).
It's important to remember that you need to know your barrel length and gas system's length (whether it's rifle, mid-length, carbine or pistol) prior to choosing a new kind of handguard. But with the right handguard in place, not only will your rifle look better, your grip will be that much stronger.
Here's What You Should Consider Why Buying an AR-15 Rail System
Because of their modular design, AR-15 rifles are extremely customizable, which is a good thing. As you begin your search for a new AR-15 rail system, you'll quickly see that you have a whole lot of choices. To help narrow that down, you're going to have to consider the following:
What kind of look are you going for? Are you trying to build a classic-looking AR-15? Do you need your rifle for tactical purposes? Or, are you going for a military replica? Whatever the case may be, looks do matter — you don't want to be stuck with an unsightly handguard.
How much extra weight are you comfortable carrying? Different handguards and rail systems have different weights. Prior to pulling the trigger on a purchase, you should think long and hard about how much extra weight you're willing to bear.
How important is accuracy to you? Some handguards are known for their tendencies to cause a rifle to become less accurate. For example, free float handguards do not interfere with the barrel when fired resulting in a higher accuracy shot. If accuracy is important to you, it's probably in your best interest to start your search here.
Do you want to be able to mount accessories on your rifle? A simple question indeed. While classic drop-in handguards don't allow for any accessories, KeyMod handguards and railed free float handguards do, so choose accordingly.
How much money do you have to spend? For the most part, AR-15 handguards and rail systems are extremely affordable. But just like most other things in life, you can spend big bucks to get some of the better components on the market today.
While the above is by no means all-inclusive, the questions should help move you a bit closer to finding your dream AR-15 rail system.
Wing Tactical: Find Your AR-15 Rail Accessories Here
At Wing Tactical, we're thrilled to offer a complete catalog of AR-15 KeyMod rail systems, handguards and other rail accessories. We're gunning enthusiasts ourselves, and we don't sell anything that we wouldn't use on our own rifles. You can buy with the confidence that comes from knowing you're getting the best of the best.
We pride ourselves on delivering our customers service they won't find anywhere else. What are you waiting for? It's time to give yourself an edge. Place your order today!