Rail Systems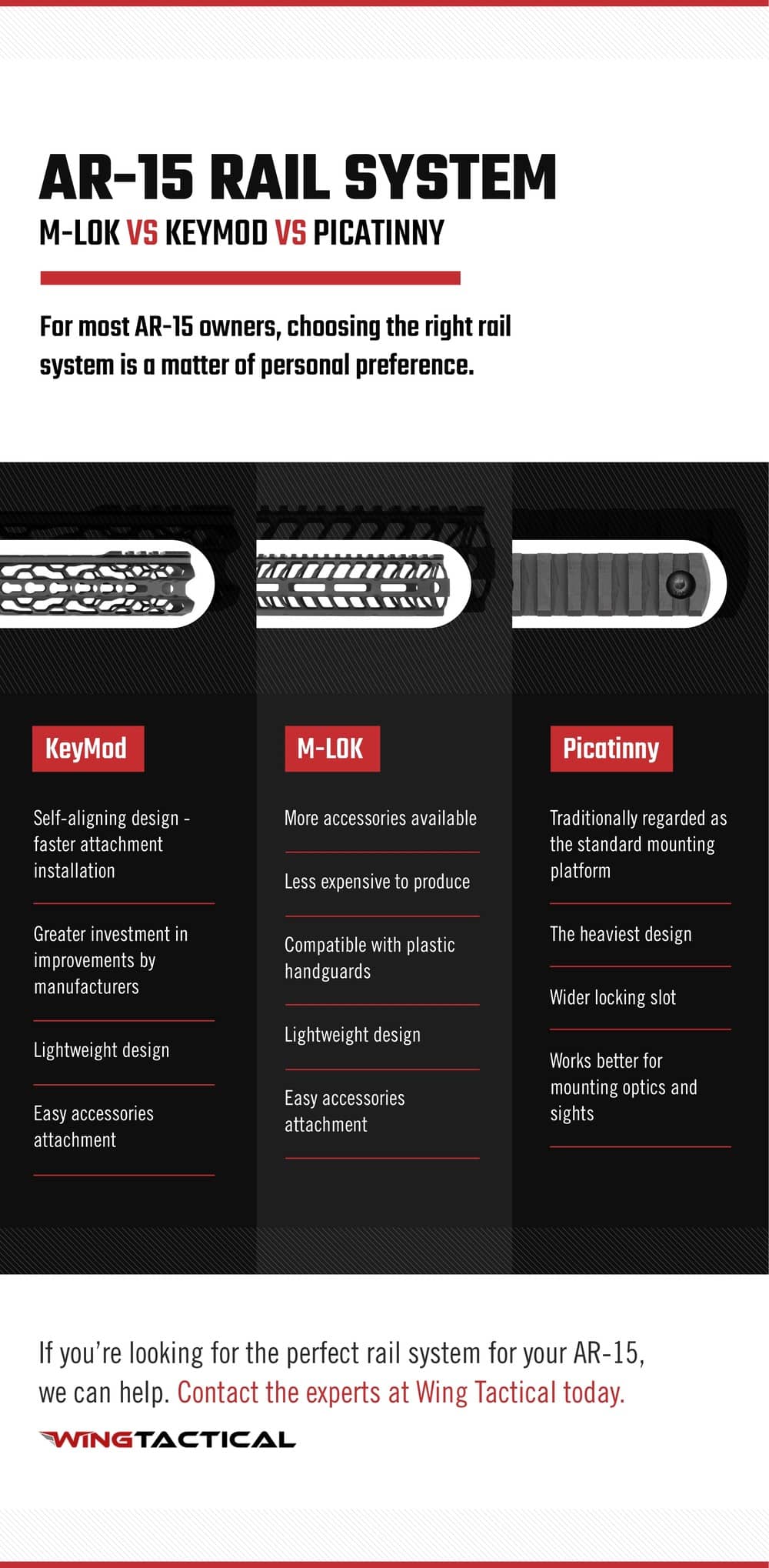 The AR-15 has served worldwide as a dependable weapons platform for over five decades. In the beginning, its form was restricted and functioned well as a basic infantry rifle. Throughout the years the AR-15 evolved, what once was a singular purpose weapon, now has become a multi-faceted platform. Military, law enforcement, and civilian enthusiasts have put demands on the weapon to conform to multiple mission parameters.
The unique distinction of the AR-15 is its standardized, modular design that offers a myriad of configurations while working from one basic platform. In considering possible upgrades the options are nearly endless, ranging from low-cost and simple all the way to the extreme. This text will explore the most basic upgrade one can make that will yield the most benefits for the shooter. That upgrade is to the AR-15 rail systems.
Aftermarket AR-15 Rail Systems
The original M16A1 adopted for use by our military offered only a full length, plastic Handguard. While some traditional fans of the AR revel in this classic look, it does limit the weapons possibilities. Consequently, we have to enter the world of aftermarket rail systems to address this situation. An aftermarket rail system replaces the traditional AR handguard. A rail system allows the operator the luxury of customizing the weapon to fill a specific need.
Aftermarket rail systems are modular in design, making them the simplest, most versatile upgrade that can be made to an AR-15. A vast array of modern options are available to help improve the shooting experience. You can retain the traditional appearance or get radical with color and design.
A modern rail system, by design, allows you to mount a variety of accessories with the option to switch things around when you so desire. Depending on the size of your hands a weapon can be a chore to hold onto. When you attach the correct rail system this matter can be successfully addressed. Today's rail systems vary in weight and size, this allows the shooter to create a gun with the appropriate dimensions, therefore, increasing their grip and comfort level.
Properly installed AR-15 rail systems provide a stable surface on which to mount accessories, therefore, making your life easier. So, whether you want to go "old school" or let your style shine, an aftermarket rail system can help make that happen.
Benefits of A Better Rail System

When a change is made to the existing AR handguard there are certain things that stand out immediately and some that only appear with use. Clearly, the appearance of the gun will change. Rail systems are available in finishes that range from mild to wild. Many people like to keep a theme going with their weapon. With a little imagination, that plain old AR can stand out among its peers.
When one practices rapid fire, full auto, or suppressed fire, it's not long before heat build-up becomes an issue. By putting on a good rail system your support hand is saved from that excessive heat. When shooting changes from a chore into a pleasure a person is likely to shoot more, that could result in becoming a better shooter. So, will a new rail system make you a better shooter, that's hard to say? However, when you put the right rail system on your gun it will put the circumstances in place that will allow you to better develop your skills.
Regardless of how old we are, everyone loves toys and gadgets. Sometimes, these things are a necessity while at other times it's just something we want. Either way, when you run a rail system you can mount the accessory you want where you want it. Unlike a scope mounted onto a bolt action rifle, when you mount a rail on your gun that gadget can easily be moved out of necessity or convenience.
If improving the guns long range accuracy is a concern, an AR free float handguard can help bump up your scores a notch. Perhaps the focus of that particular weapon is self-defense or the fast-paced, grip and rip three- gun arena. If so, a simple drop-in two-piece handguard might be preferable. Certainly, there is an aftermarket rail system to fit every shooter need.
Types of Rail Systems
When it comes to choosing to upgrade your AR-15's rail system, there are many options to weigh. Each system offers it's own features and choosing the right one for can make all the difference. Here are the main types of rail systems to shop for:
Drop-In
Free Float
Picatinny
KeyMod
M-LOK
Drop-In Handguard/Rail

The base, entry-level upgrade is the "drop-in" handguard or rail system. This design is going to usually come with the lowest price. It is quick and easy to install and no modification is necessary to the gun. The overall length of a drop-in component is limited to the length of the weapons gas system.
Due to the style of attachment, the drop-in handguard will yield no increase in accuracy. Some manufacturers design these parts to afford the attachment of accessories. However, due to the method of attachment of a drop-in guard one usually experiences a bit of wiggle when it's installed. Still, mounting of foregrips, barricade stops, bi-pods, or lights will work just fine. Unfortunately, the mounting of optics is not recommended due to the lack of stability.
AR15 Free Float Rail

A free floating handguard/rail system is the other option to consider. The name does not refer to the outward design of the part, simply to the way it attaches to the weapon. It is a cover, if you will, that attaches to the receiver and surrounds the barrel without touching it. Therefore, the barrel is free of impingement, developing its own individual shot harmonics. Accuracy is improved via uninterrupted shot consistency which is critical for optimum performance.
With the use of a low-profile gas block, one is free to install an AR15 free float handguard to any length desired. This gives the shooter more real estate to work with when attaching accessories.
An AR15 free float rail is usually going to be a bit more costly, both in price and installation. This type of AR handguard can't be installed with the gun lying in your lap. You're going to need a vise block, an armorers wrench, and a little time. So, you're looking at a little bit more on the front-end with much more versatility as a reward.
Picatinny Quad Rail

This type of Handguard is exactly what the name implies. It keeps with the Picatinny design which is the oldest system of attaching anything to an AR-15. However, the quad feature gives a mounting surface that surrounds the barrel in 90-degree intervals. Since this system has been around the longest there is a multitude of accessories available for it on the market.
This style lends itself to the classic tactical appearance that many shooters find appealing. Also, the mounting options are ample due to the fact that one has a groove available about every half inch for the length of the guard. Unfortunately, this design does have its drawbacks which may be a factor for some.
The open Picatinny, sawtooth design has a tendency to catch on brush and web gear quite easily. This can be countered by the application of covers that are attached over the unused portions of the rail. Without these covers, its harsh edges can be uncomfortable when handled without gloves.
There is also added weight and bulk when you run a Picatinny Quad Rail. However, if you have big old paws and wear gloves, this style of handguard might be a home run for you.
AR-15 KeyMod Rail System

This was the first major AR-15 rail systems for sale to give the classic Picatinny a run for its money. The AR-15 KeyMod rail system differed from its predecessor in the manner by which accessories were attached. The KeyMod system employed a negative space attachment design, meaning that one didn't have to add bases in order to attach KeyMod accessories.
The AR-15 KeyMod rail system has a series of holes machined into its surface that are key-shaped. Accessory attachment is made using special hardware, inserting said hardware into the larger end of the slot and sliding it forward. Finally, an Allen wrench is used to tighten the fastener in position, creating a quick, secure connection.
The KeyMod handguards weigh in much lighter than the Picatinny handguards. Which, if one is going to be moving around a lot might be a consideration. Availability is not an issue for numerous manufacturers offer an AR-15 KeyMod rail system for sale along with accessories to go with it.
Most KeyMod handguards qualify as an AR15 free float rail, so your downrange accuracy will get a boost. The creators of this system have released the design in an open source patent so nearly any company can offer an AR-15 KeyMod rail system for sale.
AR-15 M-LOK Rail System

In an attempt to improve on the AR-15 KeyMod rail system, Magpul created the AR-15 M-LOK rail system. It is similar to the KeyMod system, however, instead of keyholes, the M-LOK handguard uses symmetrical slots. In using a T-nut to secure its accessories the AR-15 M-LOK rail system is compatible with polymer as well as metal components.
Magpul released their product on an open-source patent as well, therefore, even their competitors can legally offer an AR-15 M-LOK rail system for sale. This is good for the consumer, this practice engenders competition, creates a larger market, and helps to keep retail prices down.
The benefit of uniform slots instead of keyholes is twofold. First, one can install any accessory to the front or the rear of the slot, it is bi-directional. Second, the slot requires one less step to machine, this means there is a lower cost per unit to manufacture because the process is faster.
When you consider an AR-15 M-LOK rail system for sale you should do so knowing that the military has rated the M-LOK system the strongest and most secure mounting system available. M-LOK has been adopted by the military for use by our soldiers as well.
Also, if you happen to have Picatinny style accessories laying around, there are many companies that produce individual Pic style bases that attach to both the KeyMod and M-LOK pattern rails. This is just one more step toward versatility and options for the shooter.
Which Rail Belongs on Your AR-15?
When thinking about all the possible AR-15 rail systems for sale, there are a number of points to take into consideration. Your budget should come first. The price of drop-in type versus the free-floating rails can be considerable. The change may have to come in phases and there is no shame at all when you stay within your budget.
The weight factor could be an issue with your desired style of shooting. The simple fact is a Picatinny rail is going to be heavier than a skeletonized KeyMod or M-LOK one. Add the weight of the rail to the accessories you intend to hang off it and it can quickly add up.
Ease of installation could come into the picture. You have to decide if the lighter weight, versatility, and increased accuracy of an AR15 free float handguard is worth the time and aggravation of installation.
Next, is just what look are you going for? When you look at the AR-15 rail systems for sale today the color options are just crazy. Whether you want a pink gun or one that is red, white, and blue, somewhere in the marketplace someone makes AR-15 rail systems just for you.
Perhaps the most important thing of all is to try and remain open-minded as to change. Now, not all change is for the better, but sometimes it is. If you hear about the latest doodad to hit the market, do some research, talk to people that are running the thing and find out all you can about it. If the new thing works and it fits your needs, then get the best one you can. If you're not careful you just might learn something in the process.
What Are You Going To Clamp To That Rail?
Most people like to have some kind of foregrip to help them hang on to their weapon. Whether in your world that is vertical, angled, a handstop or a barricade stop you can get a version to fit any of the three rails.
A flashlight is critical if the weapon is to be used for protection. Its main purpose is target identification, especially inside your home. It would be a bad day indeed if you thought that your teenager sneaking home late was an intruder, that's exactly what the light is for. The light should be mounted as far forward as possible to maximize its effectiveness and limit your silhouette.
Lasers are fun to play with, however, we haven't found any useful models available that were anywhere near affordable.
If hunting is on your agenda, the addition of a bipod would certainly be reasonable. Most models are light enough and fold up when not in use while still providing a stable firing position when needed.
For most shooters, optics are a basic requirement. Of course, common sense dictates that if a Red Dot type is used, one should mount it up toward the front of the receiver. Conversely, a regular scope needs to be farther back to accommodate the necessary eye relief. Either way, a set of flip-up iron sights are in order just for back-up, that way in case old Murphy shows up you will still have a way to get off an accurate shot. Optics are great when they work, however, batteries fail and a hard jolt will knock everything out of whack.
A rail is a perfect place to attach a quick disconnect type of sling mount. Most people find that having a sling on the weapon is convenient. It not only provides stability when firing offhand but is critical for weapon retention. Not that someone is going to yank that rifle out of your hands at the range, but you can trip and watching that AR bounce off the side of a rock will ruin your day. Just think of iron sights and slings as a kind of insurance, when you consider the cost of your rifle and a day at the range it's cheap enough to add them.
It All Comes Down to You
The first thing to note is that any accessory hanging on your gun should be considered a luxury and not something you bet your life on. Anything physical has the possibility of failure and in the end, if you're left with a naked rifle the job still has to get done.
It is a good rule of thumb when considering which accessories to install, is to add just what you need and don't go overboard. Spend some time thinking first about function and purpose, letting the form take shape from there. Whether the question is which rail system to get or which accessory to mount, one should go for ergonomic and physical advantages first and foremost.
Before any purchase, it is wise to identify just what it is you need as opposed to what you want. Set a realistic budget and stick to it. Think about it, read about it, ask questions and then order the rail that will make your life better.
Spend your time and money dealing with a quality company like Wing Tactical. When you do, you can rest assured that you will only get the best product available. Furthermore, if any problem arises we have an American, in-house that will solve it for you, and you won't need a translator.