AR-15 Bolts and Carriers
As one of the most vital pieces of your firearm, your AR-15 bolt carrier group (BCG) needs to be 100% reliable. In conjunction with the gas system, the BCG is responsible for cycling through the order of operations, including loading the chamber, firing the bullet and ejecting the empty case.
Due to the modular characteristics of the AR-15, you have the freedom to upgrade your bolt carrier group if you aren't satisfied with how your firearm is operating. At Wing Tactical, we carry many BCGs for sale to allow shooters to perfect their builds. Check out our selection today!
Different Bolt Carrier Groups
When looking to upgrade your bolt carrier group, you should be aware of the three available types. These carriers function almost identically and can be used interchangeably in your AR-15.
The AR-15 bolt carrier groups you can choose from include:
M16 fully automatic BCG: This heavier configuration leads to a slower and smoother cycling rate. An M16 BCG will function in an AR-15, but it doesn't make it fully automatic.
AR-15 semi-automatic BCG: This profile is nearly identical to the M16 BCG. The main difference is its reduced mass at its rear, making it lighter.
Lightweight BCG: This type of bolt carrier group is typically fluted and features cutouts to remove weight wherever possible. The lower weight reduces recoil and helps the gun cycle faster, making it a perfect option for those who take part in competitions.
Direct blowback BCG: These BCGs are designed for pistol-caliber AR-15s that use a different type of lockup system.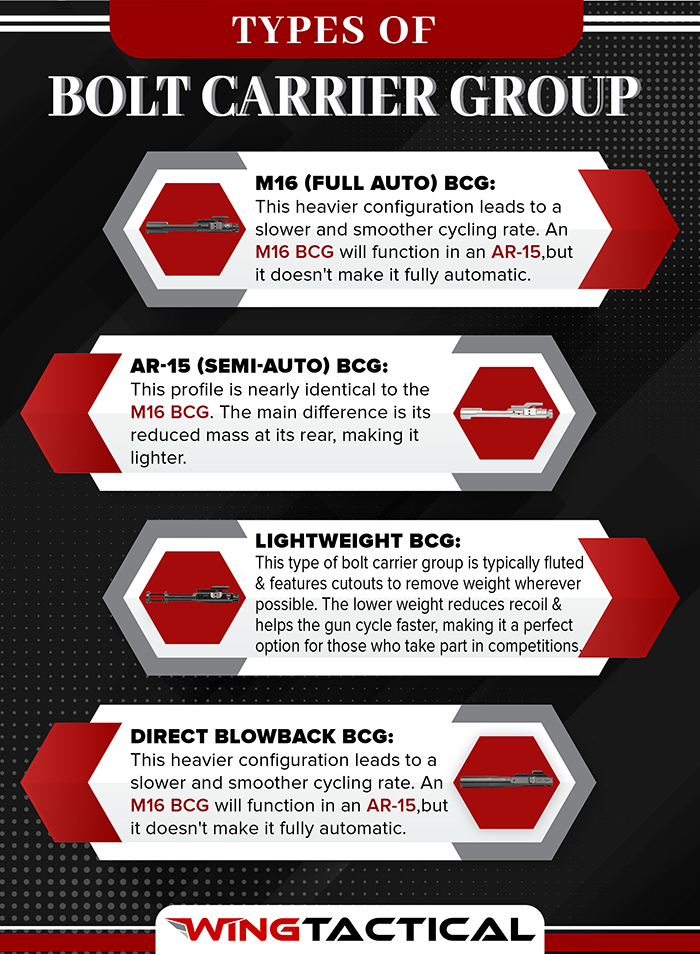 Bolt Carrier Group Brands We Carry
Our bolt carrier groups for sale come from industry stalwarts like:
Aero Precision
Anderson Manufacturing
Battle Arms Development, Inc.
CMC Triggers
Fail Zero
Faxon Firearms
Iron City Rifle Works
Kaw Valley Precision
Midwest Industries
Noveske
Odin Works
Seekins Precision
Spike's Tactical
Volquartsen Firearms
WMD Guns

Bolt Carrier FAQs
Why should I Upgrade My Bolt Carrier Group?
While you can purchase a bolt carrier group for your AR-15 fully assembled, you can also buy the parts you need and put it together yourself. No matter which route you decide to take, there are some features that you should look for when purchasing:
Metals: Manufacturers commonly use durable steel to create these BCGs, such as Carpenter 158 or 8620. You may also find bolt carrier groups manufactured from aluminum or titanium — lighter alternatives to steel.
Advanced coatings: These coatings typically add lubricity and increase resistance to wear, carbon buildup and corrosion. Standard finishes include parkerizing, black nitride, nickel boron, titanium nitride and diamond-like carbon.
Testing: Quality tests such as high-pressure testing and magnetic particle inspection are essential to determining whether the bolt carrier group has the strength to withstand long-term operation without suffering cracks or damage.
What features should I look for in a bolt carrier group?
While there are many ways to improve a stock AR-15, upgrading your bolt carrier group is one of the bigger wins for taking your AR to the next level.
It's essential to consider what you want out of your gun and the areas that you think need improvements. How you choose to upgrade it will determine what sort of performance boost you experience.
Some typical benefits of an enhanced BCG include:
Improved dependability
Higher resistance to wear and tear
Faster firing action
Enhanced smoothness
Experience Our Wing Tactical Guarantees
With Wing Tactical by your side, you'll know you're getting the best bolt carrier groups the market has available. Our extensive inventory and high standards ensure that we provide you with only the best products you can get your hands on. We also offer some valuable guarantees like:
Quick shipping services: Our next-day shipping brings your products to your doorstep as quickly as possible.
LEO and military discounts: As a veteran-owned enterprise, we know how hard our military and law enforcement personnel work daily. We offer these men and women discounts to give them the equipment they need at affordable prices.
Wing Tactical seal of approval: We are incredibly selective in what we sell and only stock firearm parts and accessories that our experts would depend on themselves.
Exceptional customer service: With attentive customer interactions and our 30-day hassle-free return policy, we strive to ensure that you are always happy with the services and products you receive.
Give Yourself an Edge With Wing Tactical
When you've decided to upgrade your bolt carrier group, you can count on Wing Tactical to bring you the quality parts you need to give yourself an edge. Browse our extensive catalog of complete BCGs and individual components to find the perfect fit for your gun.
You can also get in touch with our knowledgeable team for assistance if you have questions.