Choosing Your AR-15 Lower Receiver Parts
The AR-15 is incredibly popular among collectors and competitors for a variety of reasons. It's accurate, lightweight and versatile. It's also simple to maintain and disassemble. That simplicity makes it easy for owners to replace and upgrade parts both to make it last longer and to customize it.
At Wing Tactical we have all the parts and accessories you need to replace old parts or to upgrade your AR-15, whether you're trying to extend the life of your current rifle or trying to make it fit your unique needs. You can also build one piece by piece. If you want to do that, the lower receiver itself is the serialized part of the AR-15, making it the only part you'll need a background check for.
If you order one online, you'll have to pick it up at your local Federal Firearms Licensed (FFL) gun dealer. You could probably order one and purchase it there, too. You'll have to complete any ATF forms and licensing documentation for your state while you're there as well.
Once you have your lower receiver, you can start customizing it with parts and accessories from Wing Tactical. Here's a rundown of what you may want to consider as you're shopping for lower receiver parts for you AR-15.

Types of Lower Receivers
It's important to think about what type of lower receiver you want to build from. There are three types, and they all have their advantages:
Cast Aluminum.

A lower receiver from cast aluminum is made by pouring molten aluminum into a mold. Once it cools, a CNC machine is used to finish it. Cast aluminum lowers have a bad reputation — one that's undeserved — but you can find one that's high quality. Usually, cast aluminum lower receivers are the most cost effective.
Billet Aluminum.

A billet aluminum lower receiver is, essentially, cut from a solid block of aluminum with a CNC machine. These generally are the most aesthetically appealing lowers. They won't necessarily make a better rifle, but if you want a certain look for your custom AR-15, a billet aluminum lower receiver will function as well as the other types.
Forged Aluminum.

A forged lower receiver is also made from a single piece of aluminum, but this aluminum is hammered into a dye to be shaped. It's then finished off with a CNC machine. Forged aluminum products are generally stronger than aluminum that is manufactured in other ways.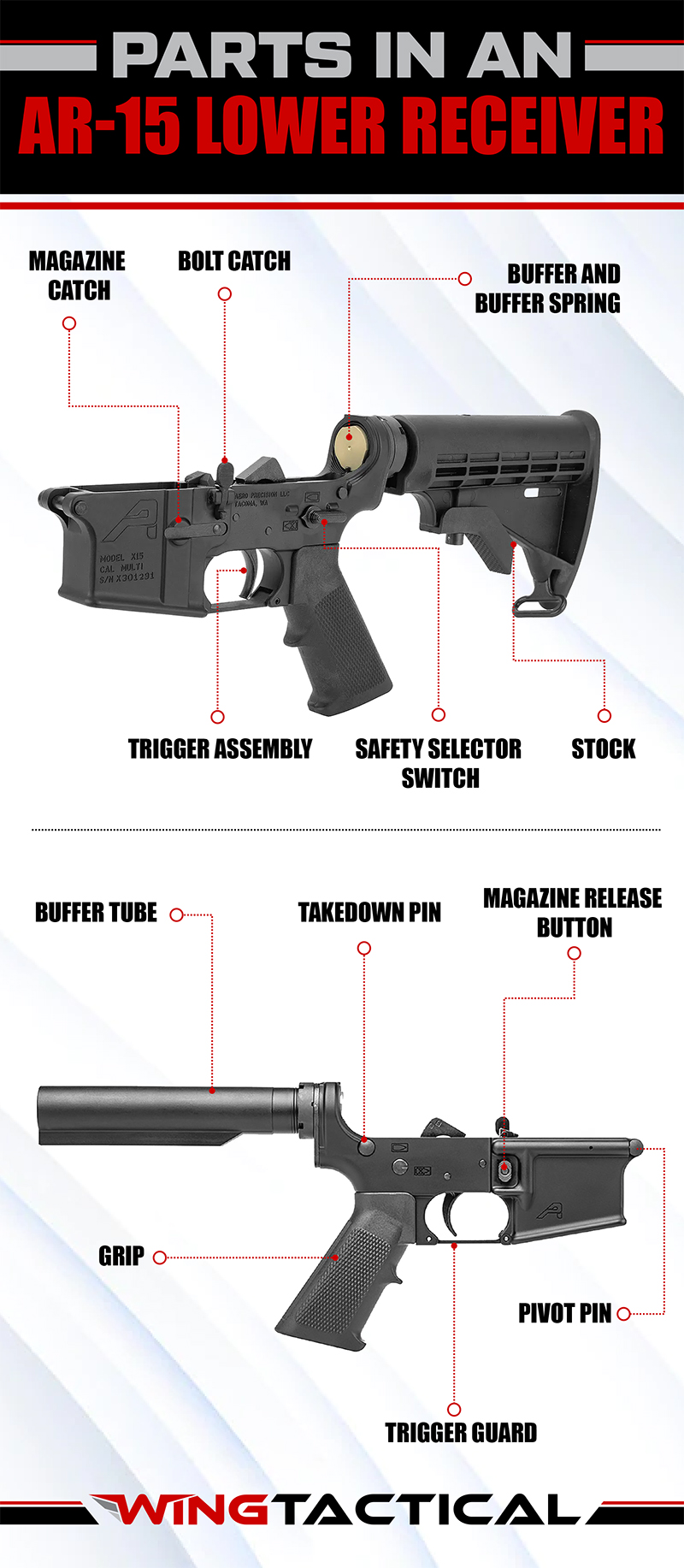 Parts in an AR-15 Lower Receiver
Shopping for AR-15 lower receiver parts can be a simple process. If you're building one, you may choose to get a complete lower parts kit. This will give you everything you need to have a functioning lower receiver, and all you will need for a completed rifle is a buffer and spring assembly, an upper receiver assembly and butt stock, along with any additional accessories, like a sling and optics.
If you're upgrading, replacing worn parts or customizing, you'll have to do a little more browsing to find the parts you want, especially if you're a lefty or want to make an AR that can be comfortably fired from either side. At any rate, once you have your lower receiver, you'll need the following parts to complete it:
Trigger Assembly.

You can always choose a basic model. Then again, if you're customizing your rifle, you can choose one with a different curve, for your comfort, or even one with a lighter pull, to increase your speed for competition.
Trigger Guard.

The standard trigger guard prevents accidental firing if the trigger were to catch on something, but an enhanced trigger guard can give you more room to move if you need it for larger fingers or gloves.
Magazine Catch and Release Botton.

This part holds the magazine in the magazine well. You can find one that's compatible for left-handed shooters to use, or you find them in different colors or made of different material to go with your lower receiver or your other accessories.
Bolt Catch.

The bolt catch holds the bolt carrier group in the open position, so you can load a magazine or inspect the chamber. You have similar variations to the other pieces on this list — color, material, and convenience for left-handed shooters.
Safety Selector Switch.

The AR-15 was designed for right handed shooters to use their thumbs to rotate the selector switch from safe to semi while keeping their hands on the grip. The opposite side of the lower receiver also has "safe" and "semi" stamped into it, so an alternate knob for lefties is a simple alternative.
Grip.

The grip or "pistol grip" is standard for any AR-15. The basic grip can be used by left- or right-handed shooters. If you want to upgrade, you can find one that's specialized for either hand or one that's simply more comfortable for your hold.
Takedown and Pivot Pins.

The takedown pins help make the AR-15 very easy to disassemble. They come with springs and detents to hold the pins on the lower receiver once you separate the upper and lower receivers for cleaning or repair. You can find ones made of various materials or ones that are easier to release.
Receiver Extension (Buffer Tube).

This is the tube that goes on the back of the lower receiver. The butt stock fits over it, and it holds the buffer and spring assembly.
Buffer and Spring.

The buffer and spring assembly has two purposes. It absorbs the recoil when the bolt carrier group is pushed backward when a round is fired, and it pushes the bolt carrier group back forward to push another round from the magazine to load it into the chamber.
Butt Stock.

We carry a variety of butt stocks for you to choose from. You can select one that's collapsible, so shooters with different arm lengths can use it. You can also look for one that's more comfortable for your cheek-to-stock position.
Assembling Your AR-15 Lower Receiver
We have all the AR-15 lower receiver parts for sale, and you can start assembling your AR-15 lower receiver as you start receiving the parts in the mail. You can also wait until you have everything and then put it all together in an afternoon.
Here are some quick guidelines to assembling your lower receiver:
Separate the parts into their groupings. If you purchased each group or part separately, it's a good idea to keep them in the bags they're shipped in until you're ready to assemble your lower. That way, you can keep all the small pieces and springs together.

When assembling the trigger group, ensure the springs are aligned correctly. After you put the trigger and disconnector together — along with the appropriate springs — you can drop the trigger into place and tap the trigger pin into place. Next, put the hammer and spring into place. The hammer pin may be more difficult to tap into place because of the tension in the springs. You may need to use a punch and a hammer to tap it in.
The trigger guard can be kind of tricky to install. Just make sure you have it in place before you start to install the roll pin. You may also need a small amount of lube and small clamp or vice grips to get enough pressure to insert the roll pin. You can use plastic or some tape to protect the finish of your receiver.
The magazine catch is relatively easy to install. The post is threaded, so push it through to the button side. Then push the button in deep enough to rotate the other end to screw in the catch.
The bolt catch is also easy to install. You may need a special punch to install the roll pin, but if you don't have one, you can use pliers to squeeze it in. Just cover the tips with tape or use a cloth to protect the finish of your receiver. Put the plunger and spring in place, and then install the catch and the roll pin.
As you install the safety selector , you'll also need to install the grip. Push the hammer down to lock it in place and then insert the safety selector in the "fire" position. Slide the safety selector detent into place in the hole beneath the lever and place the detent spring into place on the pistol grip. Then use the screw and washer to install the grip, which secures the safety selector detent.
Place the buffer detent and spring into place and then hold it down with your fingertip as you screw the buffer tube into place. The lip of the tube should go in far enough to hold the rear edge of the detent in place.
Next, you'll want to put the rear takedown in place. Slide the post in so the slot is to the rear. Then, insert the detent and spring into the hole in the back of the receiver. If you use a standard butt stock, you'll need a spacer for the end of the buffer tube. The butt stock will hold the spring and detent in place. Use the butt stock screw to secure the stock.
If you have a collapsible butt stock, you may need to install a spacer between the butt stock and the receiver to hold the detent and spring in place for the rear takedown pin.

The front takedown pin can be tricky to install. If you don't hold the detent in place well enough while you're installing the pin, the spring can send the detent flying. Be careful, and do this in a clear area, just in case you need to search for that detent. Put the spring and detent in place, and hold it down with a razor blade or thin piece of plastic or aluminum.
Once the front takedown pin detent is in place, slide the pin into place with the slot over the detent. Then pull the plastic or metal away that you're using to hold the detent in place.
Now, all you have to do is slide the buffer and spring into the buffer tube. The detent will hold it in. Your lower receiver is now complete and ready to be attached to your upper.
Brands Offered
You can search Wing Tactical for each part you need or if you have brand preferences, you can go to our brand's page to find the one you want. We carry lower receiver parts from the following top-rated brands:
2A Armament

makes high-quality parts for your AR-15. We carry their titanium takedown and pivot pins for your lower receiver.
Battle Arms Development

makes durable and lightweight accessories for your AR-15. We carry many of their accessories and parts for your lower assembly, including their magazine release buttons and ambidextrous safety selectors in a variety of colors.
Bullet Button

makes a reloaded mag release that adds an additional level of safety. It will only release the magazine when the rear takedown is released, and the upper receiver is removed or shot-gunned.
CMC Triggers

makes a complete trigger and hammer assembly that eliminates the hassle of putting the trigger, disconnector, hammer and all the springs in place. Just drop the assembly in and secure it with the pins.
CMMG

makes parts kits for your lower receiver, making your order simpler. You can choose kits with and without the trigger assembly and grip depending on your desired customization.
Core15

offers two versions of their trigger guard, one slotted and one with four holes. They're lightweight and oversized, allowing extra room for larger fingers or gloves.
Forward Controls Design 

makes lightweight, ergonomically sound products to enhance your AR-15. Their enhanced bolt catch has enlarged paddles for ease of use.
Geissele Automatics

makes high-quality, highly accurate and fast trigger assemblies, including one that's the favorite of the U. S. Military's Special Operations Command.
High Velocity Arms

makes high-end parts for your AR-15. We carry their trigger guards and ambidextrous magazine releases.
JP Enterprises

makes parts that are used by the US Army Marksmanship Unit. We carry their low mass buffer and enhanced trigger spring among other products.
Knight Armament's

combat trigger guard is easy to install and makes room for gloved fingers. We also carry their ambidextrous magazine release and safety selector.
KNS Precision

makes the non-rotating trigger and hammer pins, preventing them from coming loose during rapid fire. We also carry their enhanced, quick release takedown and pivot pins.
Luth-AR has an MBA fixed stock assembly, if you want your AR to have the modernize look. We also carry their rifle buffer tube kit for the fixed stock.
Magpul

has been an innovator in American arms for nearly 20 years. Their grips and butt stocks come in a variety of colors for your customization.
Norgon

makes a great ambidextrous magazine release that's adaptable to any standard magazine release button.
Noveske

makes durable parts for your AR. Their ambidextrous safety selector offers smooth, fast rotation from fire to safe.
Odin Works

makes a great parts kit for your lower receiver. We also carry their extended magazine release buttons.
Phase 5

makes parts to help make your AR-15 feel as comfortable in your hands as possible. Their "winter" trigger guard allows for the extra space needed to fire with gloves, and their extended bolt release allows you to release the bolt with your trigger finger.
Raddlock

has a bullet button for your AR-15. It will only release your magazine with the use of a tool, meeting certain state requirements.
Radian

makes world class parts for your AR-15. Their ambidextrous safety selector is an easy adaptation for left handed shooters.
Rainier

Arms makes a great ambidextrous safety lever, extended magazine release button and modified trigger guard — in multiple colors — to customize your lower receiver.
Seekins Precision

makes an enhanced AR-15 lower parts kit that's a step beyond the standard parts. It includes a rounded trigger guard and an ambidextrous safety selector. They make a variety of other parts to customize your AR.
Spikes Tactical

has quite a few enhanced parts and parts kits for your AR build. You can choose from individual parts to parts kits and buffer tube kits. Their parts kits come with and without trigger assemblies.
Strike Industries'

parts are all designed by active shooters for the best quality, from grips and stocks to ambidextrous safety selectors.
Tactical Link

makes a high-quality pistol grip for your AR lower, and they have an enhanced bolt release that works with just a tap of your trigger finger.
Timney Triggers

makes specialized trigger assemblies that are easy to install. Merely drop them in and secure them with the trigger and hammer pins.
Troy Industries

makes durable parts for your lower receiver, including ambidextrous bolt and magazine releases and an enhanced trigger guard featuring a larger curve for more room.
Info on Wing Tactical

Wing Tactical has the parts you need for your AR-15. From standard parts for a basic build to enhanced parts for the custom rifle for competition, we carry those and everything in between. We want to provide you with exceptional customer service and the highest quality parts. We offer next day shipping on all orders and 30-day hassle-free returns.
You're in the right place to shop for lower receiver parts for your AR-15. As always, ensure you order parts that meet the limitations of your state's gun laws.