Over the last few years, the popularity of concealed carry micro 9 pistols has increased dramatically, and the Sig P365 started it all. First introduced in 2018, the Sig P365 was the first concealed carry 9mm pistol with a high capacity of 10+1 rounds in such a small package. Being manufactured by Sig, it was also very reliable and accurate and, therefore, is the go-to option for concealed carriers all over the US and the world. Wing Tactical is proud to offer Sig Sauer parts and upgrades for the Sig P365.
Sig Sauer Parts from Wing Tactical
Considering its popularity, it makes sense why many aftermarket manufacturers make parts, accessories, and upgrades for the Sig P365. Though the factory Sig P365 is quite capable, adding some aftermarket parts can improve it. These parts can improve their performance and even their aesthetics.
Many aftermarket brands make all kinds of parts for Sig Sauer handguns, from performance barrels, slides, and frames to smaller parts like extended magazine releases, fiber optic sights, and compensators.
Barrels
Many manufacturers make a wide range of barrels for the Sig P365 and P365XL. Fluted barrels are lighter and better at heat dissipation. Some people also opt for threaded barrels, which allow them to install suppressors, compensators, and other muzzle devices on their Sig P365. Some manufacturers also make barrels with different finishes like chrome, gold, and crimson red, which add to the aesthetics of your pistol.
Slides
The factory slides on most Sig P365 pistols may not have an optics cut, which is one of the main reasons some shooters buy optic-ready aftermarket slides. You can also send your factory slide to a gunsmith for optics cut milling. However, that can be expensive and take a lot of time. Some aftermarket slides also have unique serrations and lightning cuts, which decrease the pistol's weight and can make it run a little faster. However, remember that you may also need lighter springs for sides that are considerably lighter than the factory slide. Otherwise, you may have some reliability issues.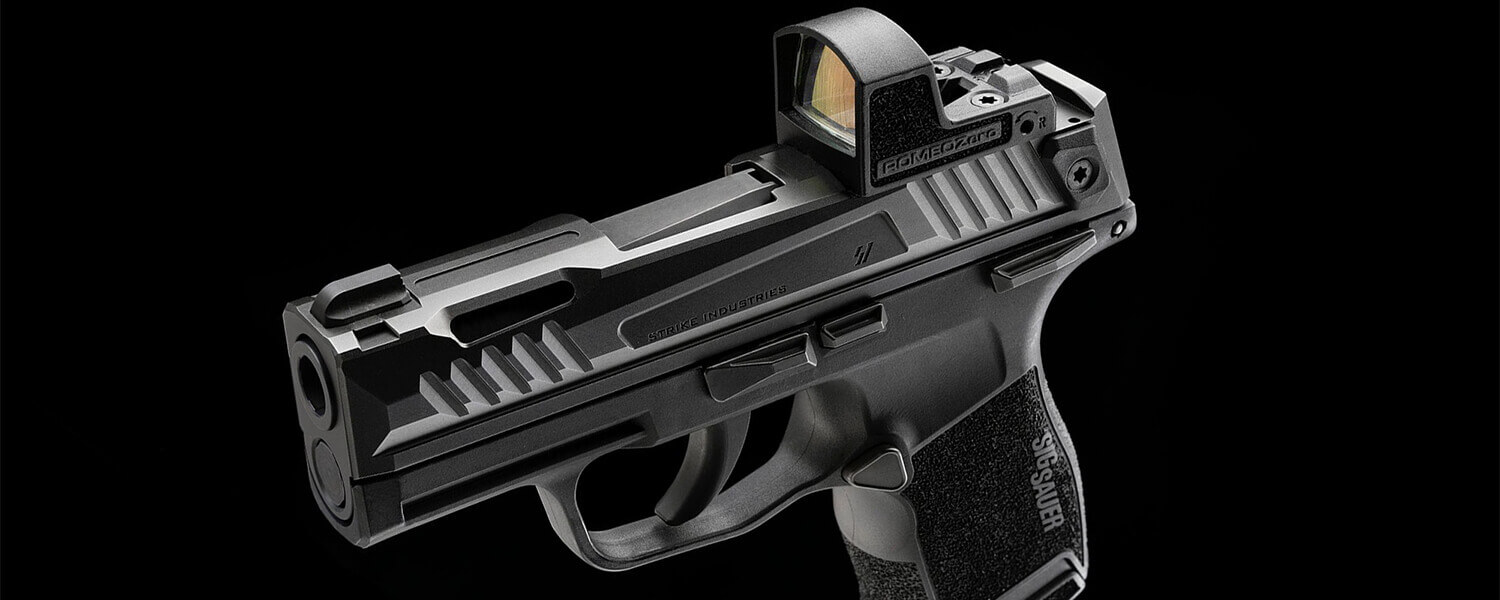 Trigger Groups
The Sig P365 comes with a 6 lb factory trigger. Though this is a suitable weight for a self-defense pistol, some people prefer lighter triggers they can manipulate more easily to shoot faster. Therefore, many manufacturers make lighter aftermarket triggers for the P365. You can also find triggers with different profiles and colors.
Magwells
Some shooters may also buy flared magwells for their Sig P365s, which can help them perform faster reloads in high-stress situations.
Wing Tactical: Connecting Builders with Quality Parts Since 2013
As a veteran-founded brand, Wing Tactical understands just how crucial firearm performance can be. That's why we're committed to curating the highest-quality collection of parts for Sig Sauer and other arms manufacturers.
We're proud to offer same-day shipping on all orders placed before 1 pm EST, LEO/MIL discounts, and a hassle-free return policy. Plus, our dedicated customer service team is always standing by and ready to help you select the right product, answer your questions, and more.
Frequently Asked Questions
Which is better — Sig or Glock?
Your choice of handgun will depend on your personal preferences, your performance goals, your desired ergonomic features, your ideal caliber, and your aftermarket customization opportunities. We recommend checking out both brands at your local gun shop or testing out both pistols at your next range visit to determine which one is right for you.
Is the P365 a good everyday carry pistol?
Since it's lightweight, relatively small, and easy to conceal, the Sig P365 is generally regarded as an excellent choice for everyday carry throughout the small arms industry.
Should you add an optic to your Sig P365?
Depending on your application, adding an optic or upgraded sights to your P3675 might be a good idea. In a concealed weapons application, fast response could be critical. An improved sight could help you find your target faster and shoot with improved accuracy.
Does Wing Tactical offer Sig P365 muzzle devices?
Should you upgrade the barrel on your Sig Sauer handgun?
Depending on your application and shooting goals, an upgraded barrel could help you achieve your ideal aesthetic or support additional accessories integration (like muzzle devices).