Complete Upper Receiver Assemblies
AR-15 Complete Upper Receiver Assemblies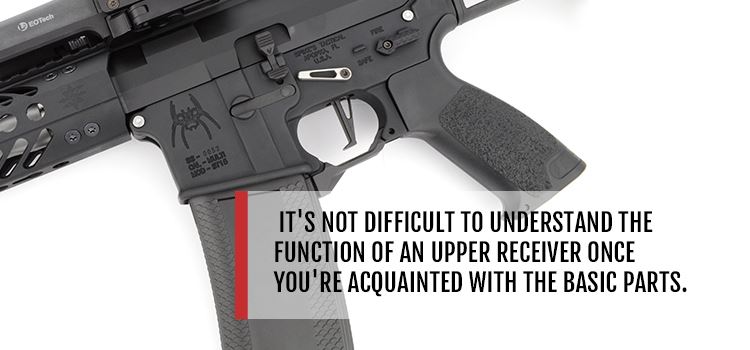 At a first glance, an AR-15 complete upper receiver assembly looks incomprehensible. The collection of parts can easily perplex even a seasoned AR-15 enthusiast. Thankfully, it's not difficult to understand the function of an upper receiver once you're acquainted with the basic parts.
In the world of complete upper receiver assemblies, each separate part works together to provide a honed AR-15 experience. In this guide to AR-15 complete upper receiver assemblies, we'll discuss all the major elements in an upper receiver and then show you some total assembly packages from quality manufacturers which we highly recommend.
Upper Receiver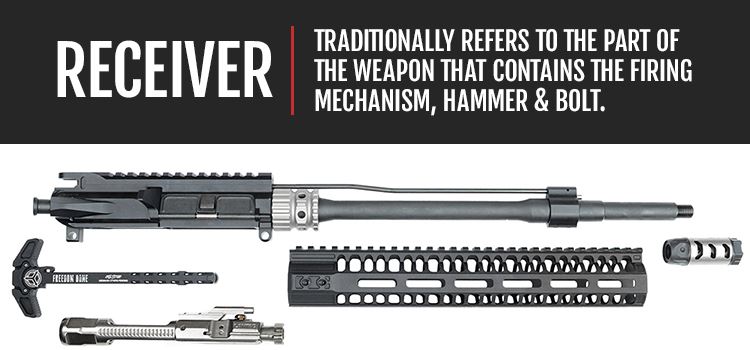 To begin our investigation into the components of an upper receiver, let's discuss what constitutes a receiver. In the world of firearms, "receiver" traditionally refers to the part of the weapon that contains the firing mechanism, hammer and bolt.
Essentially, the receiver provides the firing action. This explains why the United States legal firearm classification system considers the receiver as the firearm. This means the receiver part requires the license and necessary background check. Most firearms follow this pattern — except the AR-15.
Here's where upper and lower receivers come into play. The AR-15 sits in a special place within the United States' classification system. As the AR-15 relies on a lower receiver to provide the fundamental firing capability, the upper receiver doesn't require the same legal procedures to procure.
For the AR-15, the upper receiver houses the barrel and bolt while the lower receiver contains the magazine and firing mechanism. The lower receiver also has something that the upper doesn't: the serial number. For the reasons we mentioned, the law considers the upper receiver an "appendage" to the lower receiver "firearm."
That's not to say the upper receiver plays second fiddle to the lower receiver. Of course, the upper receiver affects the performance and capabilities of your AR-15. Unlike its lower receiver, it escapes classification as the definitive firearm element. This aspect makes it much easier for home DIY enthusiasts to expand on their existing AR-15s.
Handguard
As the name suggests, the handguard aids your hand in supporting the gun. When firing, you naturally position one hand on the pistol grip and your other on the handguard. This enables you to aim your rifle using your handguard hand.
As with many features of your AR-15, your choice in customization depends on your needs. For the true AR-15 enthusiast, there's a world of options for handguards.
Barrel
The barrel represents another key component in the upper receiver. The barrel stands as perhaps the most recognizable feature of the AR-15. The barrel protrudes from the handguard and allows the bullet to pass through its hollow, tube-shaped body.
Don't be fooled by the deceptively simple role of the barrel — there's a lot to consider when picking one out. For instance: barrel length. The length determines your accuracy and muzzle velocity.
The AR-15 possesses an exciting range in accessory versatility, and barrels present no exception. Generally, AR-15 barrels range from 7" to 24". That's a big range. Ultimately, the decision comes down to your needs. If you require longer-distance shots, then a longer barrel will come in handy. Meanwhile, shorter barrels permit greater ease of movement if you desire increased mobility when using the rifle.
Several of the upper receiver packages we'll discuss include barrels. These often contain Mil-Spec barrels. Mil-Spec represents the industry standard for recreational rifle barrels.
Gas Block
After firing your AR-15, excess gas forms. Gas blocks redirect this gas back to the gas key. Once at the gas key, these gasses pass into the bolt carrier. Here, these recycled gasses help to expel the empty shell casing and chamber the next round. This process gets repeated after each round you fire.
You want excess gas cleared and empty shells discharged — in short, you want a reliable gas block. Don't skimp on a quality gas block. It's a vital component to effective firearm usability, maintenance, and longevity.
A high-functioning gas block prevents undue friction or pressure from negatively affecting your rifle.
Gas Tube
Gas tubes represent another vital accessory in your upper receiver arsenal. Stainless-steel gas tubes, which we recommend, offer optimal durability in a variety of lengths. Gas tubes perform the necessary role of allowing excess discharge gas to return to the firearm's action.
In this way, they work in tandem with the gas block. The gas block allows the gas to pass back to the action via the gas tube. Without a functioning gas tube, your AR-15 won't work properly. Thankfully, gas tubes don't cost much. Just ensure you purchase the best one for your rifle's length.
Bolt Carrier Group
While on the subject of gas, the bolt carrier also reduces the quantity of gas present in the firearm. Some innovative bolt carrier groups come with adjustable, built-in gas regulating gates. You simply adjust the bolt carrier to pinpoint the level you desire, from fully open to entirely closed.
Bolt carrier groups function well with additional accessories. Whichever buffer, spring, suppressors or barrel you affix to your upper receiver, the bolt carrier group complements their role. This results in a considerably smoother firing experience, lower recoil, and less errant gas.
Charging Handle
As the name implies, a charging handle charges your AR-15 for the next shot. In addition, some charging handle can dispel unwanted gasses and other airborne debris caused by firing. This prevents any detritus from affecting your next round or impeding your firing ability.
The charging handle earns its place as an important member of the gas redirection team. The handles we promote also feature easy-to-grip handles to increase your ease of use when rapidly engaging the charging handle in fast-firing scenarios. Don't forget this handy handle!
Muzzle Device
There are three main types of muzzle devices commonly used on AR-15. Flash suppressors, muzzle brakes, and compensators each have different effects for shooters.
Flash Suppressor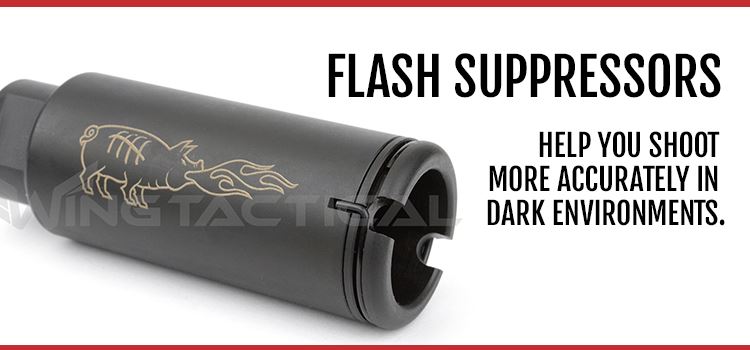 The AR 15's muzzle flash can be very bright each time it's fired, making it harder to maintain position in certain situations when it's darker outside. In addition to keeping you well-hidden, flash suppressors also help you shoot more accurately in dark environments. By helping to suppress the muzzle flash, you won't be blinded when firing your own weapon. That way, you can fire successive shots without having to refocus your eye. While suppressors work wonders in darker conditions, they don't offer much benefits to daytime shooting and will also not soften the recoil
Muzzle Brake
By redirecting gas and pressure through the side of your AR-15 muzzle, muzzle brakes are designed to provide shooters with more control. Muzzle brakes great cut on recoil, giving you the ability to stay on target with more ease, making you more accurate when firing successive shots.
Compensator:
Compensators redirect gas and pressure upward, preventing your rifle from moving vertically as you shoot over and over. Like the brake, the compensator allows the shooter to take follow-up shots faster and more accurate, since the component gives you the ability to stay on target.
Brands
At Wing Tactical, we endeavor to provide you with the best products available. We take pride in the companies we choose to do business with and with the goods they provide. Here's a quick look at some of the world-class brands we carry here at Wing Tactical.
Seekins Precision
Seekins Precision stands as a prime example of a quality company with top-notch products. The meteoric rise of Seekins Precision over the past decade resulted from the incredible quality of their AR-15 gear and other products. You'll love the selection of Seekins Precision products we offer.
They feature a huge variety of items like handguards, rifles, barrels, upper and lower receivers and accessories, scope rings and mounts and much, much more. Check out their incredible array of upper receivers below.
Battlefield 14.5" SPBRv3 C.U.A.
This complete upper receiver from Seekins Precision offers a top-notch total receiver package. Machined to levels far surpassing the standard Mil-Spec requirements, this receiver boasts an impressive roster of high-quality features. Fashioned from all custom Seekins Precision parts, the Battlefield 14.5 includes an impressive array of specs.
It's got a pinned and welded Seekins Melonited flash hider, which ensures the rifle meets the 16" legal barrel requirements. It also comes with a type III Class 2 hardcoat anodized finish, a Seekins Precision Mil-Spec upper receiver CNC machined from solid 7075-T6 Billet aluminum, a 12" MCSR key mod handguard, a 14.5" 1:8 match grade stainless steel .223 Wylde barrel, an adjustable gas block, a mid-length melonited gas tube, an M16 bolt carrier group and a BCM Mod3 charging handle.
The Battlefield 14.5" comes with a gas block specially designed for fast and easy load tuning. The bolt carrier group, gas system, muzzle device and gas block are all coated with Melonite, which prevents corrosion and keeps your receiver looking new even after extended use.
Battlefield 16" SPBRv4 C.U.A.
This complete upper assembly features a Seekins Precision Mil-Spec upper receiver, 5" Seekins Precision SP3Rv3 Key Mod handguard, Seekins Precision Melonited flash hider muzzle device, gas tube, bolt carrier group, charging handle and other great items.
With incredible machining on all the many parts, this upper assembly stands out as a truly complete package. The .223 Wylde stainless steel match-grade barrel offers a nearly unparalleled level of accuracy. The SPBRv4 offers superb gas block tuning ability. It's a well-stacked upper assembly package.
Combat Billet 10.5" SPCBRv3 C.U.A.
This upper assembly kit features a Seekins Precision Billet Upper Receiver, 9" MCSR v2 KeyMod handguard, Seekins Precision Melonited adjustable gas block, carbine-length Melonited gas tube, an excellent Seekins Precision Melonite Coated M16 Bolt Carrier Group and a BCM Mod3 charging handle.
This Combat Billet 10.5" offers another excellent total upper assembly package. It comes complete with all the Seekins trimmings.
Combat Billet 10.5" SPCBRv3 (.300 Blackout) C.U.A.
Similar to the Combat Billet 10.5" SPCBRv3 C.U.A., this upper assembly comes with a different caliber. Whereas the previous model features a 223 Wylde (5.56 NATO / .223 Rem.) caliber, this .300 Blackout unsurprisingly has a .300 Blackout caliber. This means the barrel is different, and so is the muzzle threat pattern.
Both calibers offer high-quality performance, so your decision might come down to personal inclination. However, the Blackout is slightly lighter.
PRO Series 16" SPROv3
This Pro Series boasts the same .223 Wylde as the SPCBRv3 and also sports the Seekins Precision iRMT-3 Billet Upper, 15" Seekins Precision MCSR KeyMod handguard, and the same Seekins Precision Melonited Flash Hider muzzle device, gas block and BCM Mod3 charging handle as standard Seekins Precision assemblies.
PRO Series 16" SPROv4 Complete Upper Assembly
Move aside, SPROv3 — it's the SPROv4's turn! If you loved the notion of getting the v3, you're in luck, because the v4 comes with all the same features. That means it's got the same Type III hardcoat anodized matte black finish for optimal corrosion resistance, premium-quality Seekins Precision barrel, gas block, bolt carrier group and gas tube.
PRO Series 8" SPROv3 Complete Upper Assembly
With a shorter barrel — literally half the length of the 16" — the 8" offers simulated combat enthusiasts more versatility and maneuverability. Other than that, it comes with all quality Seekins Precision gear as similar models. The pistol-length Melonited gas tube is shorter and the muzzle threat pattern sits at 1/2"-28. It's comes with a Strike Industries ARCH-EL charging handle, bolt carrier, and gas block.
PRO Series 8" SPROv3 Complete Upper Assembly (.300 Blackout)
Like the complete upper assembly we just mentioned, this Pro Series 8" rocks a shorter barrel, but instead of the Wylde .223 caliber, it's got a .300 Blackout caliber barrel. This barrel offers a perfect mix of quality and the fast action physical movement a short barrel provides.
Spike's Tactical
Spike's Tactical offers a ton of various products, from rifles and parts to accessories and, of course, upper receiver assemblies. Here are the models we carry from Spike's Tactical.
Carbine-Length 5.56 M4 Barrel ST-15 LE Upper w/ M-LOK Rail
This quality assembly comes with a 5.56 NATO caliber, Spike's Tactical .750" micro gas block, carbine-length Melonited Gas tube, Spike's Tactical Mil-Spec M16 Bolt Carrier Group, Mil-Spec charging handle and Spike's Tactical Lightweight M-LOK Rail handguard. And don't forget their forged M4 Flat Top upper receiver.
ST-15 LE 16" Upper 5.56 Carbine-Length M4 Barrel w/ SAR3 Rail
This upper assembly package has all the goodies the M-LOK rail offers, right down to everything except the rails. As the name implies, this upper assembly comes with three SAR3 rails. These rails function in a very similar manner to the M-LOK, so the choice is up to you.
ST-15 Upper 16" Mid-Length 5.56 CHF Barrel w/ BAR2 Rail
Again, this model boasts all the great features Spike's Tactical includes in their standard upper assemblies. The only differences relate to the gas tube length, which is a mid-length Melonited gas tube in this model. The rails included also differ from the previous models, with the addition of BAR2 rails.
ST-15 Upper 16" Mid-Length 5.56 CHF Barrel w/ SAR3 Rail
This complete AR-15 upper assembly has a longer 16" barrel. More specifically, a 16" 1:7 Twist Optimum profile 5.56 NATO CHF Barrel. This means a longer gas tube than the shorter-barreled models. With a longer barrel, the upper assembly is slightly heavier but affords better accuracy.
T-15 LE 16" Carbine-Length 5.56 M4 Barrel w/ BAR2 Rail
This upper assembly has a carbine-length barrel and BAR2 rails. This superb combo will give you an edge in your firing. Another quality collection of features from the trustworthy folks at Spike's Tactical.
ST-15 LE 16" Mid-Length 5.56 Gov't Barrel w/ BAR2 Rail
This other upper assembly package from Spike's Tactical comes with the Gov't Barrel. This exceptional addition will kick your AR-15 ability to the next level. Of course, all the standard gear comes included.
ST-15 LE 16" Mid-Length 5.56 Gov't Barrel w/ M-LOK Rail
This upper assembly package might seem similar to the last Gov't barrel package — and you'd be right. It's just as great, with a minor difference: the rails. This upper assembly comes with the M-LOK variety of rails. Another great addition in another excellent assembly.
ST-15 LE 16" Mid-Length 5.56 Gov't Barrel w/ SAR3 Rail
Finally, we come to the last variant of the ST-15 LE 16" Mid-Length 5.56 Gov't Barrel — the one with SAR3 rails. That's right, it's got the SAR3 rails. Check it out!
Tactical Solutions
Since Tactical Solutions burst onto the scene, they've provided passionate firearm customers with a bounty of quality products. For something different, check out our choice of their upper receiver assemblies below.
AR-22 LT .22LR AR Upper Assembly
Despite the name, this AR-22 LT .22LR AR Upper Assembly is staunchly an AR-15 upper assembly add-on. It has a .22 LR caliber barrel, muzzle device thread protector, Tactical Solutions .22LR Bolt and comes with a charging handle and Type III Class 2 hardcoat anodized finish.
This assembly represents an interesting alternative to non-NATO caliber barrels. Try something different with this great upper assembly from Tactical Solutions.
Continue Your Upper Assembly Education
By now, you should have a good working knowledge of upper assemblies from some of our favorite manufacturers.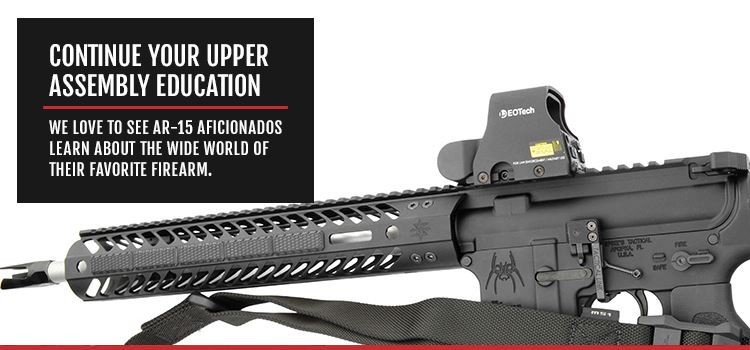 At Wing Tactical, we love to see AR-15 aficionados learn about the wide world of their favorite firearm. It's often difficult to assemble an entire upper receiver assembly package yourself, so consider the merits of each of our highly recommended products. We're sure we'll hear from your soon!