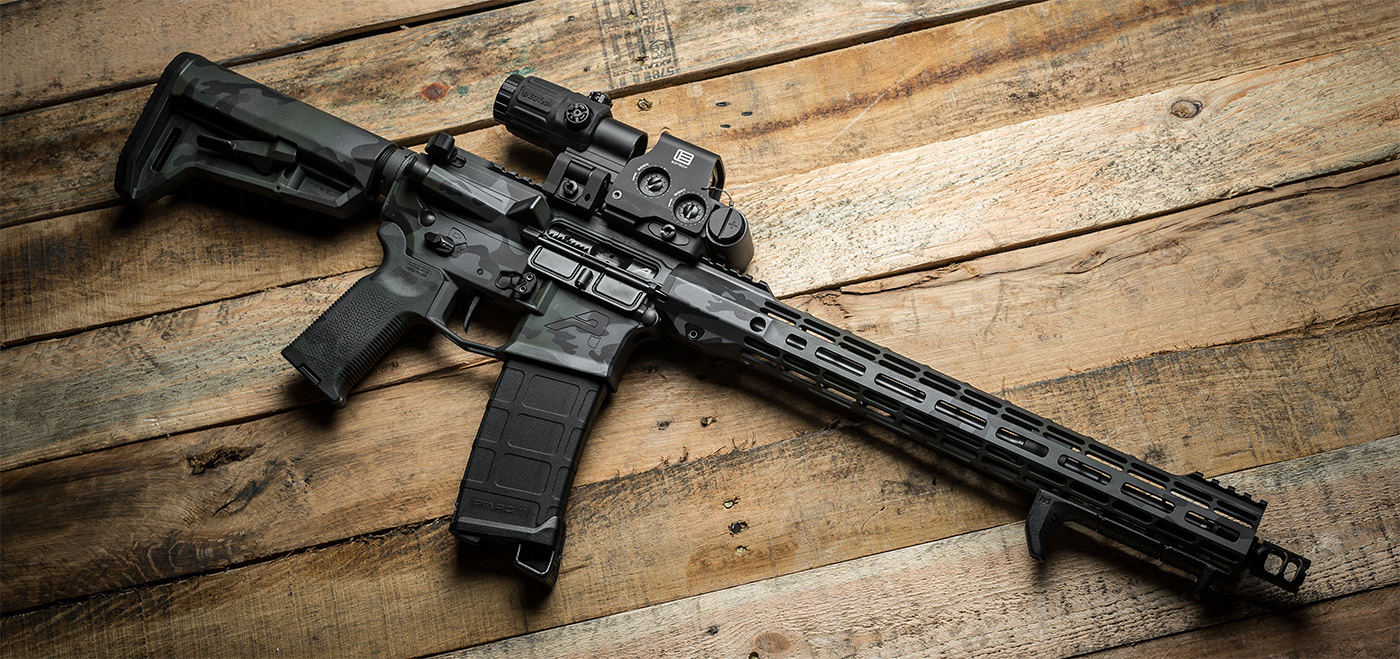 Complete AR-15 Upper Receiver Assemblies
One of the best ways to build a great AR-15 system without a lot of headaches is to start with a complete upper receiver assembly from Wing Tactical. We work with the best manufacturers in the business and our complete upper manufacturers are no exception.
Parts Included in Complete Assembly
Buying a complete upper receiver assembly for your AR-15 build saves you from hunting a laundry list of parts. The parts included in a complete upper assembly are:
Handguard
This may be a simple featureless handguard designed to protect the shooter's hand from the heat of the AR-15 barrel, or you might prefer an advanced rail system that allows for the attachment of working accessories for your AR-15.
Barrel
The barrel is one of those choices that creates the character of your AR-15 build. Choose the barrel length and profile that best suits the purpose of your build.
Gas Block
The gas block is essential to the function of your gas operated rifle build, collecting expelled gasses from the port in the rifle barrel and directing it to the gas tube.
Gas Tube
The gas tube carries gasses from the gas block back to the receiver to facilitate the cycling of the AR-15's action.
Bolt Carrier Group
The AR-15 Bolt carrier group is the working portion of your action. It includes the carrier body, bolt, firing pin, and extractor as well as the springs, pins, and gas rings that complete the functional group.
Charging Handle
The charging handle is a simple but essential part of any AR-15 system. Shooters choose charging handles based on ergonomics and personal preferences, but they all serve the same purpose, to cock the rifle action preparing it to fire.
Muzzle Device
AR-15 muzzle devices vary in their purpose and configuration from simple pronged flash hiders to suppressors that master muzzle rise and recoil.
Upper Receiver
The upper receiver includes the receiver frame, dust covers and forward assist when one is included. Uppers may be forged or fully machined and usually include attachment rails for accessories.

Things to Consider When Choosing a Complete Upper Receiver Assembly
You'll want to consider a number of different things when choosing your Complete AR-15 Upper Receivers from Wing Tactical. Each of these characteristics has a bearing on the suitability of your final build for a particular use.
Barrel Length
Fully built AR-15 upper receiver assemblies are available in almost any industry-standard length. If you're looking for a long-range shooter you may want and 18'' inch barrel. Most common fully assembled AR-15 upper receivers will make use of a 16-inch barrel. While the manufacturer's language may vary, these AR-15 complete upper receivers may be marketed as mid-length or carbine length. Other options may be available such as legal short-barreled builds.
Caliber
While the Mil-Spec caliber for the AR-15 is 5.56 NATO, AR-15s have been adapted to a number of different calibers from 22 long rifle to 300 Blackout. Don't forget the ever-versatile .223 Wylde.
Handguard Style
The rail system or handguard on your fully assembled AR-15 upper receivers directly influences the accessories that you will be able to utilize. If you're old school and like to keep to a standard setup with little need for variation, a standard Picatinny rail will do the job. However, if you like to change things on the fly a more modular modern rail system featuring KeyMod or M-Lok attachment options may be a better choice for you.
Muzzle Device Type
Many standard defense builds, or common carbine length builds will come equipped with a standard A2 style flash hider or a similar device, while premium builds designed for longer range performance and accuracy will likely be equipped with a compensator to assist the shooter who wants greater muzzle control and accuracy.
Start Your AR-15 Build with a Complete Upper Receiver Assembly from Wing Tactical
Wing Tactical offers AR-15 complete upper receiver assemblies from some of the industry's most trusted names. Aero precision, Seekins Precision, Spikes Tactical, and Primary Weapons Systems build some of our awesome offerings, If you're looking for a premium Nickel Boron coated pre-built upper receiver assembly WMD Guns brings their NiB-X Nickel Boron 5.56 Complete Upper Assembly. Choose the assembled AR-15 upper that best suits the purpose of your build.
Whichever option is best for your build, you'll receive the same great customer service from Wing Tactical. We're here to help from the moment you need a hand deciding what set-up is best for you, to the day you need replacement parts for a favorite rifle or when you decide to upgrade your muzzle device from a flash hider to a brake that will give you better control. Wherever you need, Wing Tactical is here to help you give yourself an edge.
Updated August 24st, 2022