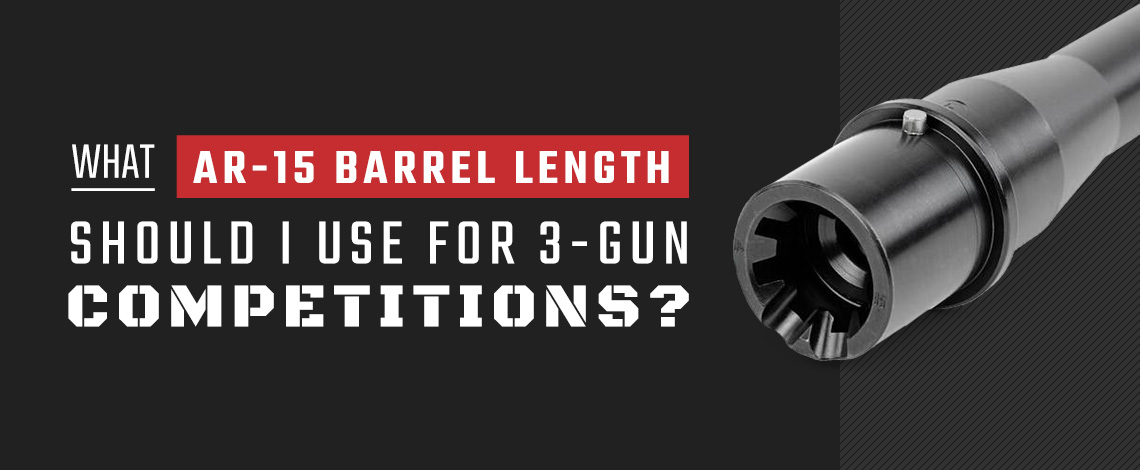 If you've ever participated in a three-gun competition, you know that speed is essential. You must hit a range of targets at various distances using three different firearms — a shotgun, a handgun and a rifle. Throughout the competition, you'll transition from hitting precise targets hundreds of yards downrange to double-tapping multiple targets at close distances.
Choosing the right barrel length is crucial to your performance in the competition, as it affects everything from bullet velocity to gun weight to bore pressure. Below, we explain the pros and cons of several common barrel lengths to help you make the best choice for your next three-gun competition.
Common 3-Gun Barrel Length Options
Every shooter is different, and there isn't one right barrel length for three-gun competitions. As you build a gun that works for you, consider the pros and cons of each of these common barrel lengths for a competition-geared AR-15: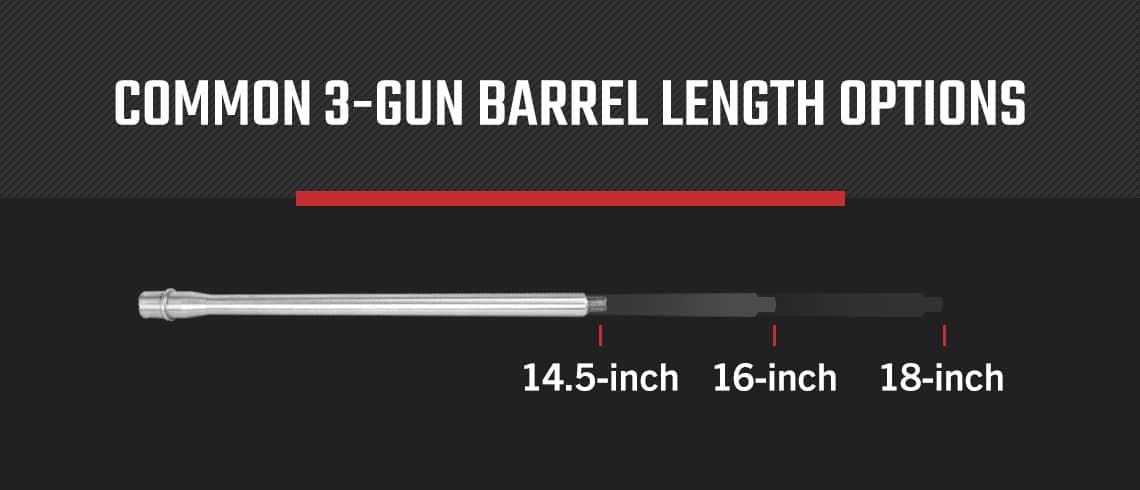 18-Inch Barrels
The 18-inch barrel is very popular in the competition world. Its full-length rifle gas system produces manageable recoil and offers good stability. The longer length also maintains excellent bullet velocity and promotes flatter shooting, decreasing the amount of holdover required at a given range.
The tradeoff is that an 18-inch barrel may be slightly more difficult to handle than shorter barrel lengths depending on your size.
16-Inch Barrels
The 16-inch barrel is the most common barrel length on the market. It delivers exceptional performance and offers shooters a happy medium between full-length, 20-inch barrels and shorter options.
In a three-gun competition, a 16-inch barrel provides good maneuverability. It's also easy to buy and build, as this legal size isn't highly regulated like other barrel lengths.
14.5-Inch Barrels
The 14.5-inch barrel has a stellar reputation as a compact, easy-to-carry option with excellent maneuverability. However, the shorter barrel length produces lower bullet velocity and a very loud report, which can be a disadvantage in a competition setting. You'll also need to pin and weld your muzzle device to the barrel to bring the length up to the legal limit of 16 inches per the National Firearms Act (NFA).
Why Buy Your AR-15 Barrel From Wing Tactical?
Next time you enter a three-gun competition, give yourself an edge with parts and accessories from Wing Tactical. Besides AR-15 barrels, we also have muzzle devices, adjustable gas blocks, triggers, lower receivers and numerous other products to upgrade your three-gun rifle. Whatever your preferred competition build may be, we have the gear you need to hit your targets with speed and precision.
Everyone at Wing Tactical is a gun enthusiast. You can reach out to us for help choosing the right barrel length and finding the perfect accessories for your rifle. We only sell parts we'd put on our own guns, so you can trust the quality of our inventory.
Place your order online today. We ensure you end up with the products you need for your AR-15 as soon as possible thanks to our next-day shipping option and 30-day hassle-free return policies.