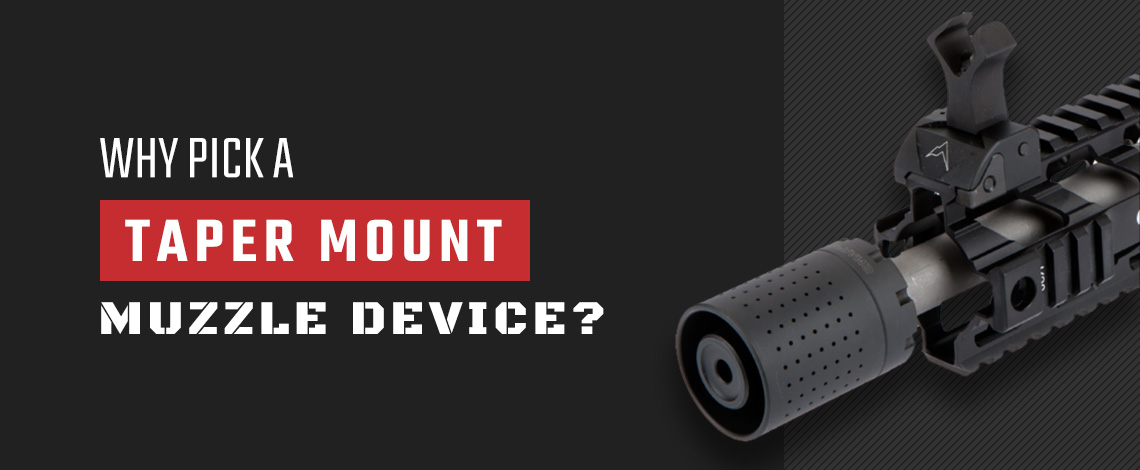 Accurate shooting requires consistency and repeatability in any situation. Tapers create perfect alignment between barrels and muzzle devices, securely locking the muzzle device in place using friction. By choosing a taper mount muzzle device, you can count on highly accurate performance with every shot.
Benefits of a Taper Mount Muzzle Device
Taper mount muzzle devices provide several unique features and benefits, including:
A gas seal that reduces carbon buildup on the threads, preventing your muzzle device from becoming "carbon-locked" and stuck on your firearm.
A concentric lockup that allows you to attach and detach your muzzle device without re-zeroing your rifle.
A long-lasting friction lock with no teeth to wear down over time.
Constant spring pressure, which helps your muzzle device remain secured to your rifle through multiple firing cycles and high firing rates.
How Does a Taper Mount Muzzle Device Work?
A taper mount muzzle device is easy to use. Simply hand-tighten the device to lock it in place — it doesn't require teeth, a rachet or any mechanical latching mechanism to tighten. It also tightens with minimal effort while providing a secure connection.
You can follow a few simple steps to attach your taper mount muzzle device:
Align and thread the muzzle device on to the taper mount: Ensure the locking collar is unlocked before threading. This process creates a gas seal and a consistent lockup to ensure your rifle's accuracy and a repeatable return to zero after detaching and reattaching your muzzle devices.
Tighten the locking collar: Make a half-turn with the locking collar to tighten it. The locking collar compresses the spring arms, creating a friction lock that keeps the device in place. The friction lock provides a consistent, secure lockup to keep your muzzle device where it should be at all times.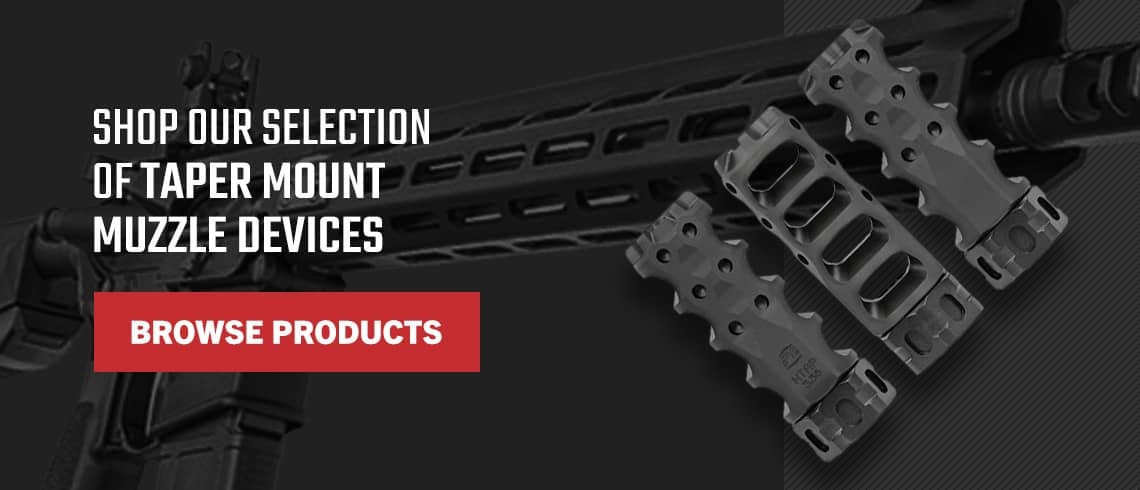 Shop Our Selection of Taper Mount Muzzle Devices
Wing Tactical is your one-stop shop for AR-15 parts and accessories, including taper mount muzzle devices. Our inventory includes products manufactured by industry leaders like Griffin Armament and Ultradyne for quality you can trust. Many of our products are also available at discounted prices to give you the best value on your purchase. What's more, we ensure you get the parts you need fast by offering next-day shipping on all our orders and hassle-free returns within 30 days.
Browse our online selection today or connect with us online to learn more about our products.