Description
MPN: APVG100025A
Features:
Unique 2 valve holes on top to reduce muzzle rise
Two stage muzzle brake to reduce the recoil effectively
Three extended flash hiding prongs to reduce muzzle flash
Very soft low energy recoil
Outside diameter of .745", the EPSILON 556SL can be pinned and welded to your barrel while still allowing full maintenance and removal of your gas block without having to remove the muzzle device
Pre-drilled for permanent attachment on 14.5 barrels needing 16.1"
Crush washer and installation tool included
Made in the U.S.A.
Specifications:
Caliber: .223 Rem. / 5.56 NATO
Material: 17-4ph heat treated stainless steel
Finish: Blacknitride
Weight: 1.59 oz.
Length: 2.21"
Diameter: 0.74"
Thread: 1/2"-28 TPI
Compatibility:
.223/5.56 barrel with 1/2"-28 thread pitch
Includes:
1x VG6 Precision EPSILON 556SL Slim Muzzle Brake
1x Crush Washer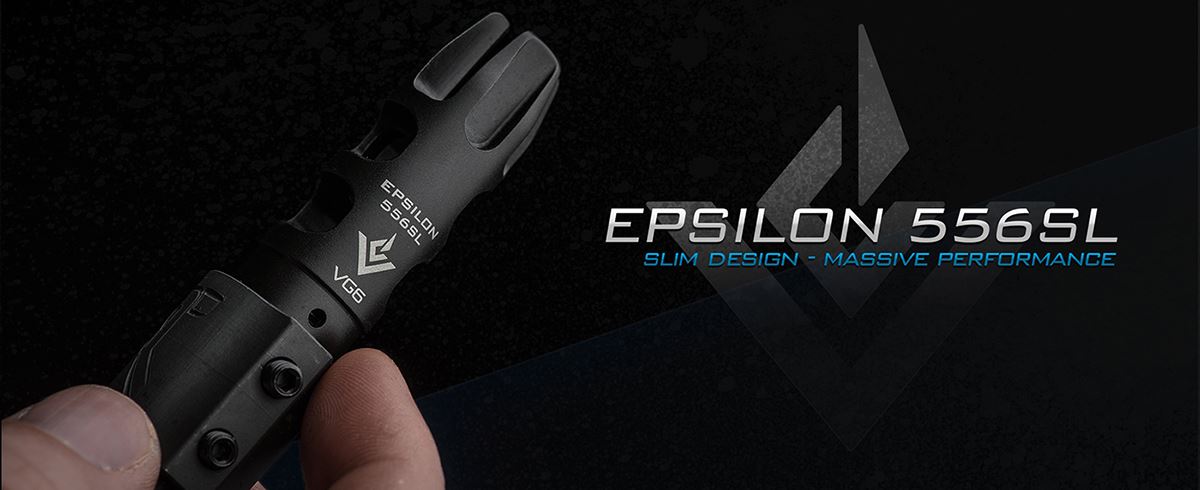 Details:
Are you thinking about a trimmed down, lean and mean AR-15? You gotta admit that thing would be bad to the bone in your next three-gun shoot-out. It would be short, fast, and aiming would be just like pointing your finger at the target. With lines like that, you're going to want a slim muzzle brake to match. You can tame that little beast with a VG6 EPSILON 556SL muzzle brake.
Dynamite Comes in Small Packages
Your search for the perfect muzzle brake ends right here with the VG6 Precision EPSILON 556SL. The dimensions of this slim muzzle brake are just right for a 14.5" build. With this muzzle brake in place, you can still service or remove your gas block without any interference. Its radical cutouts minimize weight so your muzzle can swing smoothly from one target to the next. The VG6 Precision EPSILON 556SL comes to you pre-drilled, so you simply have the brake pinned and welded in place and bang your overall length is legal.
Creative, Innovative Perfection
VG6 Precision brings aerospace engineering to their products, filling the needs of down to earth shooters. Whether they are making one of their high-end lowers or a VG6 EPSILON 556SL, absolute perfection is the base-line for operations. VG6 Precision creates every VG6 EPSILON 556SL slim muzzle brake right here in the United States from American sourced material. They match old-fashioned work ethics with space-age technology to ensure your VG6 Precision EPSILON 556SL muzzle brake is the best it can be. When you want full-size performance out of a compact muzzle brake you want to shop Wing Tactical, where every customer is important and satisfaction is paramount.