When picking out a handgun, size is one of the most important considerations, and though it seems quite simple in hindsight, it is also one of the most difficult factors to get right. From the different size parameters between different brands to the inherent pros and cons that come with different sizes, several factors make this a difficult decision to get right. However, in this post, we will tell you everything you need to know about choosing the right handgun size.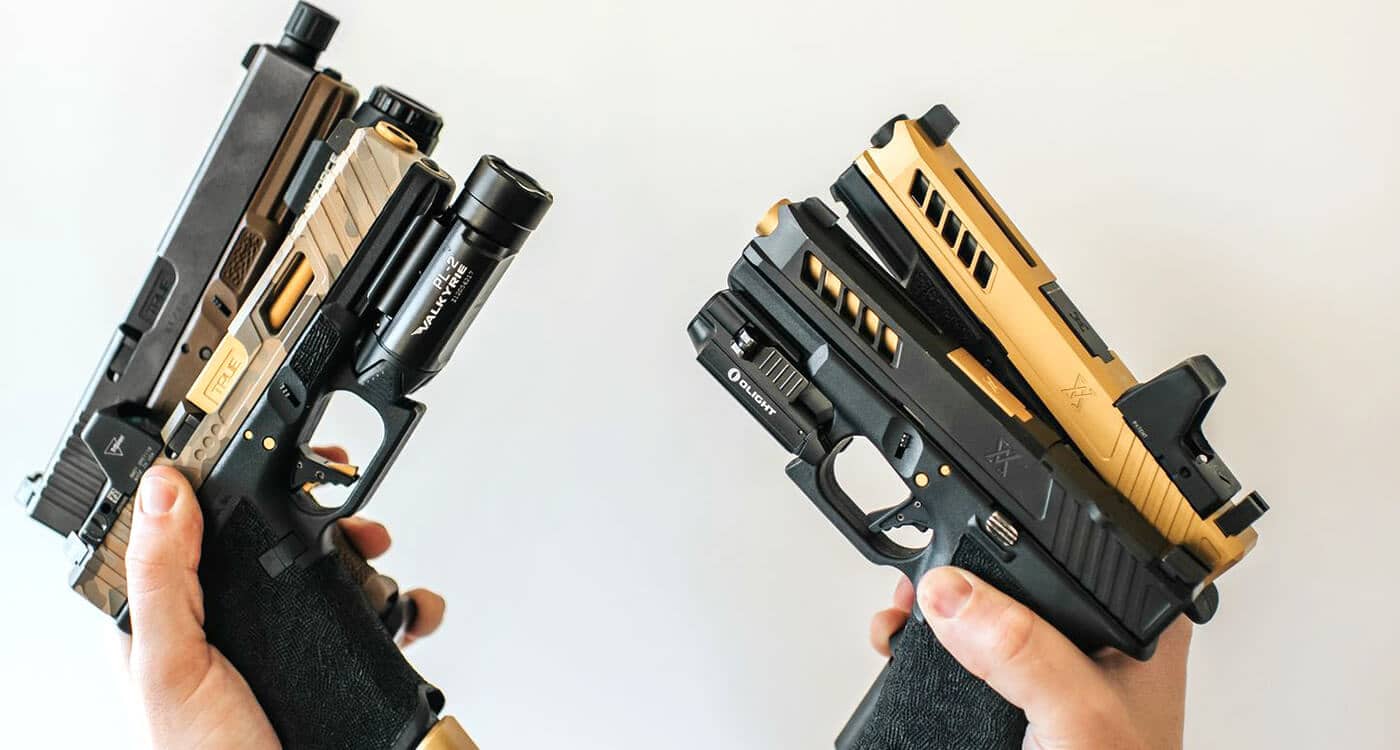 Why Is It Difficult to Choose the Right Handgun Size?
Typically, manufacturers label their guns in either of 5 main sizes. These are competition / long slide pistols, full-size / duty pistols, compact pistols, sub-compact pistols, and pocket pistols. However, the problem is that there is no specific standard that all manufacturers follow in terms of size.
Many manufacturers use the word "compact" to name smaller versions of full-sized pistols, whereas some use the word to label their concealed carry pistols that are considerably smaller than other compact models.
For instance, the Glock 19, which is a smaller version of the Glock 17 is labeled as compact by Glock, on the other hand, Smith & Wesson labels their M&P shield line as compact as well, whereas the M&P Shield is considerably smaller and slimmer than the Glock 19. This trend can be seen across several other manufacturers. Pistols like Beretta with the 92FS compact and any 1911 Officer model are labeled as compact, whereas they can be significantly larger than pistols that other brands call compact.
Therefore, simply being classified as compact or subcompact by a manufacturer does not guarantee that a handgun is a specific size. The best way to find out which size suits you is to get your hands on it.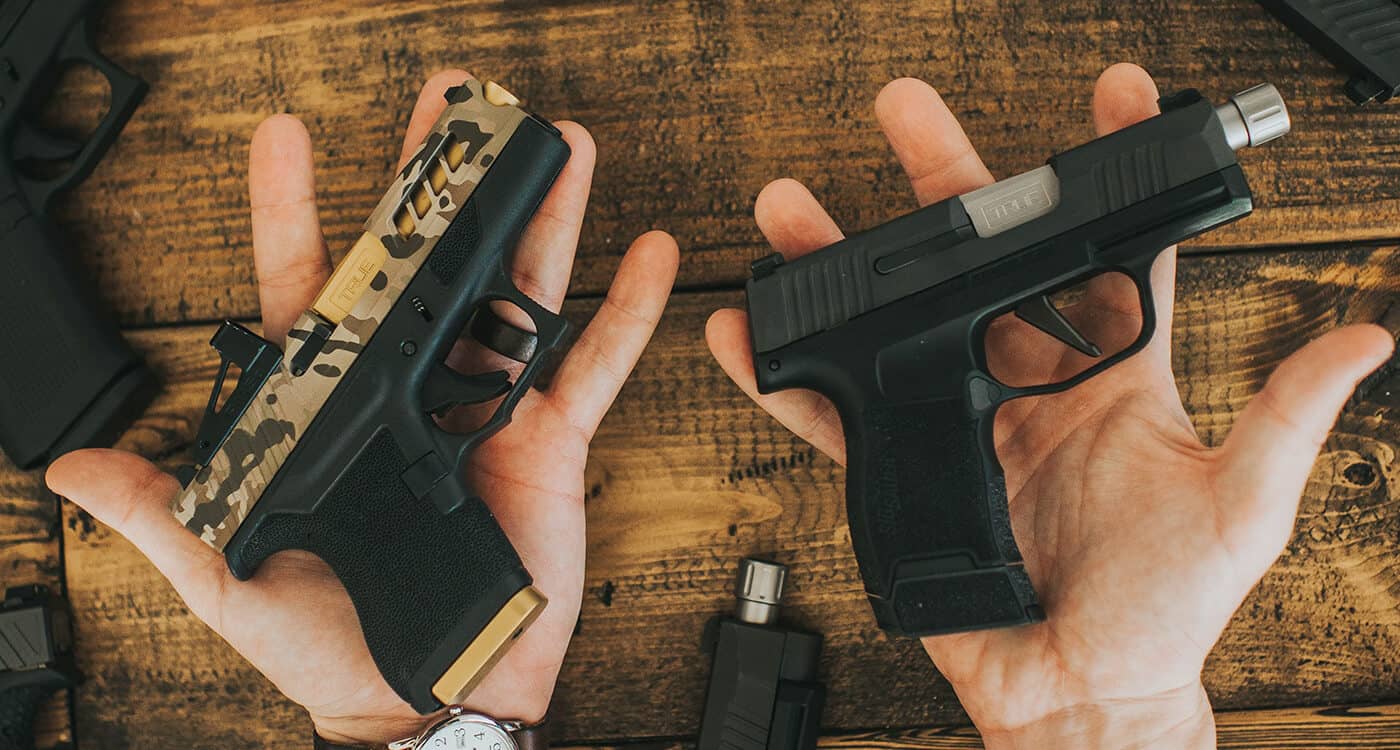 Consider the Conditions You May Have to Use the Handgun In
The size of a handgun can have a major impact on firepower. It's quite simple, smaller guns carry fewer bullets, and are usually chambered in smaller calibers. However, they are easier to carry and conceal. On the other hand, large handguns allow for a better grip and control, and they can be cambered in large calibers with high magazine capacities. Still, they can be difficult to carry in a concealed holster. So, it is important that you consider what you are buying the handgun for, and choose the size accordingly.
If you are choosing a concealed carry gun, you may want to go with the smallest options out there, like the Ruger LCP or perhaps the Smith and Wesson Bodyguard. These "pocket pistols", chambered in calibers like .32 ACP and .380 ACP may be effective as backup pistols, but I wouldn't want to rely on them as my main self-defense firearm.
So, even in terms of concealed carry, where most people will tell you that you need the most easily concealable handgun, smaller isn't always better. Ideally, you need to find a balance between concealability and firepower. "Micro 9" pistols like the Sig P365, Springfield Hellcat, and Smith and Wesson M&P Shield are some good options, which are cambered in a solid self-defense caliber, and have a decent capacity.
Moving on, if you are buying a gun for home defense, and you don't want to carry it in a holster every day, full-sized pistols are the way to go. These pistols usually have a decent capacity and firepower, depending on the design, and because of their larger frames, they are easier to shoot.
You see, in a high-stress situation, like a home invasion or robbery, you can lose a lot of your physical coordination, especially if you haven't put in the hours to train with your gun, and familiarize yourself with its controls. In such a situation, using the controls on smaller concealed carry or compact pistols can be difficult, whereas full-size pistols can be easier to operate.
Full-sized pistols are also perfect for people who open-carry their handguns. If concealability is not an issue, full-sized or duty pistols like the Glock 17 in 9mm, Glock 21 in .45 ACP, and Glock 22 in .40 S&W can be perfect for police officers and security guards. In fact, most law enforcement agencies, and police departments in the US use these pistols.
Moving up in size, you have competition pistols. These pistols usually have bigger grips and longer slides. They are also heavy and have high magazine capacities. These pistols, like the CZ Shadow series, and Canik TP9 are made for competitive shooting, and though they can work as home defense pistols as well, they aren't ideal for everyday carry, since their long slides, compensators, and flared magwells can make them very difficult to holster or conceal.
Lastly, some pistols are even bigger. However, they are usually unique, and not commonly used. Some large caliber revolvers, like the Magnum research 500 are used for hunting. Handguns like the Desert Eagle chambered in 50 AE are also very big compared to most full-sized and even competition pistols.
The Importance of Training
No matter what handgun size you choose at the store, you can't be certain that it is the right one for you until you take it through its paces. You need to take the pistol to the range, and shoot it for a few days before you decide whether its size is perfect for you. Also, no matter what application you intend to use the handgun for, you cannot be effective in a high-stress situation unless you train properly. So, make sure to put in the hours, and get a lot of practice, so that when the time for action comes, you don't freeze or fumble.
Final Thoughts
So, the bottom line here is that you need to choose a pistol according to its intended use. Smaller pistols are suitable for concealed carry, whereas larger pistols are good for duty use, home defense, and competitive shooting. However, make sure that you consider the on-field effectiveness of a certain size category before committing to it. Make sure your handgun has enough firepower for the job, and above all, once you do pick a handgun, make sure to train with it.