The AR-15 — as the M16 — didn't have the smoothest introduction to become the weapon of choice for the US military in the late 1960s. Our soldiers and marines on the ground in Vietnam didn't have the greatest faith in its reliability.
Through decades of consistent improvement, it has become an efficient and accurate weapon for our men and women in uniform — as the M16A2/A3 and the M4. It's also become the most popular rifle for sportsmen, firearm enthusiasts, home defenders and firearm collectors in the United States — and for good reason.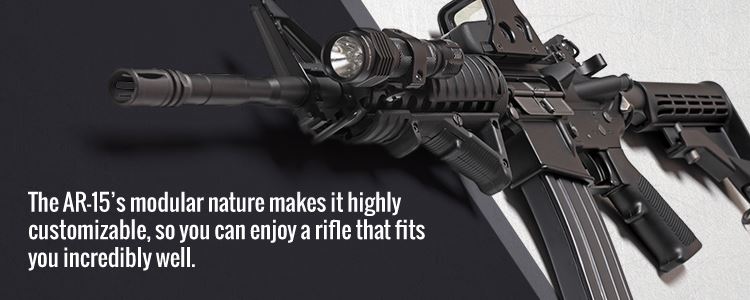 The AR-15's modular nature makes it highly customizable, so you can enjoy a rifle that fits you incredibly well. Sport shooters love it. Whether you're plinking targets for practice or you're shooting in a competition, the AR-15 is incredibly accurate.
Basic trainees in the US Army train to fire their M16s at targets up the 300 meters away, and that's with iron sights. With a good instructor, men and women who've never previously touched a firearm can hit farther targets with relative ease and regularity only after a few weeks of the army's Basic Rifle Marksmanship.
You can do something with an AR-15 that soldiers can't do with their M16s or M4s: You can customize it to suit your needs. You can also make one yourself. Whether you build or buy an AR-15, you own with a rifle that fits you perfectly and feels great whenever your cheek meets the stock and you peer through your sights or scope. You're ready to fire.
Why would you want to build one if you can easily buy one? Let's look at some of the pros and cons of buying a complete AR-15 versus building one yourself.
Buying a Complete AR-15:
The Pros
When you purchase an AR-15, you receive a great rifle no matter what. Like the M16 and M4, it's been used by the US military for over 50 years. There have been many improvements during that time — a low-end model is still an AR-15, which is a high-quality firearm. What else do you receive besides peace of mind?
More peace of mind

. Most dealers and brands offer warranties for what they sell, so if there's a problem with your AR-15, you can return it within the window of the warranty. If you're building one or customizing one, you may void the warranty or at least make it more difficult to take advantage of the warranty.
Ease of purchase

. You can buy an AR-15 from an online dealer then ship to a FFL dealer or a local gun shop. As soon as it's in your hands, you can head to the range and use it.
Accuracy

. Even base models with iron sights are accurate rifles. They may not be ready for a shooting competition, but they're absolutely ready to defend your home in an emergency.
Full package

. If you purchase an AR-15, you won't have to worry if the parts you ordered are compatible. Some brands aren't compatible, and there are variations in parts that need to be coordinated to fit with other parts. If you buy a 16-inch barrel, you have to get a gas tube that's the right length to use with it. You don't have to worry about any such details when you buy a complete AR-15.
Buying a Complete AR-15:
The Cons
When you purchase a complete AR-15, you will enjoy peace of mind — and that may be all you need. Many AR-15 owners, however, come to realize there's more to owning one. With such an incredible array of options, you'll probably want at least simple upgrades like a foregrip to make you more comfortable. Shooters with military experience may not be comfortable with the feel of the common foregrips, and a magazine well grip may feel better.
Your comfort is important. If you're going to spend a decent amount of time acclimating to your new rifle — and spend a decent amount of money on it — comfort is likely a priority. You'll probably want some custom AR-15 parts.
You're a better shooter when you're comfortable, and there are a variety of parts to help you feel more comfortable with your AR-15 in your hands. It may be something as simple as a better fitting pistol grip, or it could be a modified trigger guard. You have many customization options.
Ultimately, unless you're comfortable with something very basic, you may want or need upgrades. A lower end AR-15 may be suitable at first, but you may need to replace parts sooner rather than later. You may choose to upgrade parts with each replacement. It may end up costing more to buy a less expensive AR-15 and replace the parts than it would cost to build a better one.
The Pros of Building

Your Own AR-15

Satisfaction is the primary benefit of building one of the highest quality rifles in the world. It will be a great conversation piece with you and your friends at the range, and it could become a great new part of your firearms hobby. There are other benefits as well:
You will get to know your rifle very well

. You'll have a better understanding of the inner workings of your rifle from building an AR-15 versus buying a complete one and reading a manual. You may save yourself from the expense of a trip to a gunsmith's shop if you can see what needs to be repaired or replaced without help.
You can build your AR-15 over time

. You can purchase what you can afford each week or month until you have all of your parts. You can also wait for the best deals on the best parts for your personal rifle.
Once you have all your parts, it won't take long to assemble

. With care, you can complete your build on a weekend morning and then spend the afternoon breaking it in at the range.

You can make the process as simple or as complex as you want

. You may not want to have to torque the bolt carrier key screws to get the bolt carrier key onto

a stripped bolt carrier

, but you can always get a completely assembled

upper receiver assembly

and focus on customizing your lower receiver.
The experience will help you work on your other guns

. Not all firearms are alike, and you should inquire the help of a gunsmith if you can't fix a problem yourself, but you can build the skills required to replace common parts. If you have another AR-15, learning more about them will help you replace or upgrade parts.
The Cons of Building

Your Own AR-15

The experience of building your own rifle with custom AR-15 parts may be great, but it comes with some perils, especially if you're inexperienced. You don't need to be particularly mechanically inclined to build one, but you need to be diligent.

Not all parts are interchangeable. Some parts are "mil-spec," meaning they meet the specifications required for M16 rifles and parts sold to the military. If you have some mil-spec parts and some that aren't, they may not fit well or fit at all. Some options may influence others. For example, if you want a shorter barrel for maneuverability during home defense, you must purchase the right length gas tube and handguards to go along with the barrel.
If you aren't particularly mechanically inclined, building an AR-15 can be a difficult experiment. It's not incredibly challenging, but mistakes can be made. You may save some money in the long term, but you may not have a very good rifle for your troubles. If you know that assembling an AR-15 beginning with a stripped lower receiver is not your forte, you can find a high-quality rifle that you can customize nicely.
The time you're waiting to receive the parts to complete your AR-15 is time you're not shooting. If you don't have the patience — or another AR-15 to use — this may not be the best choice for you.
Customizing Your AR-15
Both building an AR-15 and buying one complete have their pros and cons, but there's a third option as well. You can buy a complete AR-15 and customize it to your needs.
Customizing allows you to build upon an established foundation — either to provide simple upgrades in quality or to provide options that help your AR-15 fit comfortably in your shoulder and your grip. You may find a good deal on a quality AR-15, but you should make the appropriate upgrades so it fits you perfectly.
Although the cost of customizing can be considered a con for buying a complete AR-15, it's the best way to create the ultimate fit for the way you fire. You may be able to find an AR-15 that fits you well enough to shoot comfortably, but you can also customize it so it fits you perfectly — this will make a difference in your comfort and in your shooting.
After you've done some customizing to your favorite rifle, you may want to build one.
Other Considerations
Q: Will I need a background check for each part that I order?
A: No, the only part of the AR-15 for which you'll need a background check for is the lower receiver. You can order one online and pick it up at your nearest Federal Firearms Licensed (FFL) gun dealer, or you may be able to order and purchase right there. You will have to complete the appropriate ATF forms and any licensing documents for your state. All the other parts can be shipped directly to your address. There may be some limits to what you can order and purchase in each state, so you'll have to verify the laws before you order.
Q: Once I get the lower receiver, can I customize it however I want?
A: For the most part. There may be some laws in your state that prohibit certain customizations. There may be a lower limit on barrel length, for instance. Again, it's wise to verify the laws in your state and make a complete plan before you start ordering parts.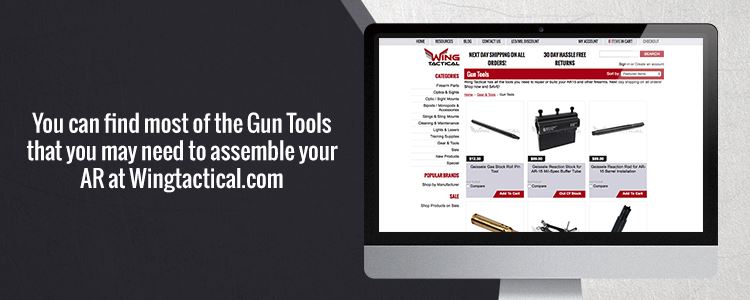 Q: Will I need any specialized tools?
A: Yes, along with some standard tools, like a bench vise, you will need some specialized tools to assemble or customize your AR-15. You can find most of the gun tools that you may need to assemble your AR at Wingtactical.com.
Q: This is my first AR-15 build. How long do I have to return parts if I happen to order the wrong one?
A: Wingtactical.com has a hassle free 30-day return policy.
Q: Many people say that an AR-15 will fire both .223 and 5.56 ammunition. Is this true?
A: It depends. If it's chambered for .223 rounds, it will only fire .223 rounds. If it's chambered for 5.56 rounds, you can fire both. If you're not sure, it may make more sense to purchase one that's chambered for 5.56 rounds.
It's Your Choice
Like the decision to purchase a firearm, the decision to build or buy your AR-15 is a personal one. The market is full of various AR-15s, but none of them may be a rifle that fits you perfectly. If you're not worried about perfection, you might be fine with only purchasing a basic AR-15. If you're familiar with it and simply want a rifle to target shoot every once in a while and keep on hand to protect your home and family if the need arises, a basic AR-15 may be right for you.