There are several essential factors to consider if you're looking to build an AR-15 for home defense. Make sure you have the right firearm and supplies to protect your home safely and effectively.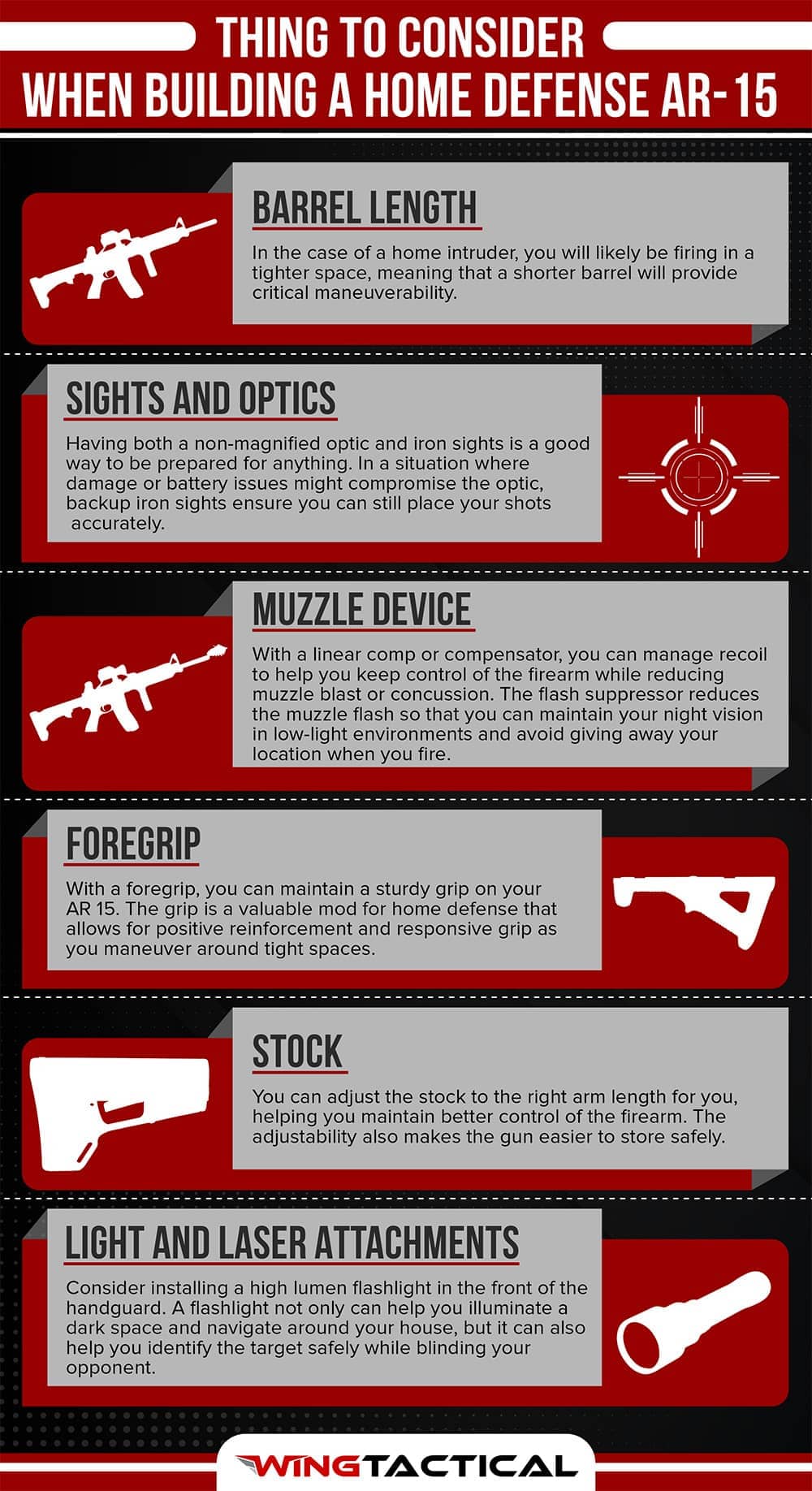 6 Parts to Consider When Building a Home Defense AR-15
As you build a home defense AR-15, gather parts to help you respond quickly and safely in an emergency. The right preparation will give you the accuracy and control to neutralize a threat while keeping your home and anyone else in the vicinity safe.
1. Barrel Length
One of the first things to consider is your barrel's length — in the case of a home intruder, you will likely be firing in a tighter space, meaning that a shorter barrel will provide critical maneuverability. Just bear in mind that the barrel must be at least 16 inches in length if your firearm is configured as a rifle and you haven't purchased the required tax stamp for a short barreled rifle (SBR).
2. Sights and Optics

Having both a non-magnified optic and iron sights is a good way to be prepared for anything. In a situation where damage or battery issues might compromise the optic, backup iron sights ensure you can still place your shots accurately.
3. Muzzle Device
Muzzle devices, including flash suppressors, linear comp, and compensators, help you keep better control of the gun when you need to fire. With a linear comp or compensator, you can manage recoil to help you keep control of the firearm while reducing muzzle blast or concussion. The flash suppressor reduces the muzzle flash so that you can maintain your night vision in low-light environments and avoid giving away your location when you fire.
4. Foregrip
With a foregrip, you can maintain a sturdy grip on your AR 15. The grip is a valuable mod for home defense that allows for positive reinforcement and responsive grip as you maneuver around tight spaces.
5. Stock
Pick an adjustable stock to give you more versatility and responsiveness for a potentially volatile situation. You can adjust the stock to the right arm length for you, helping you maintain better control of the firearm. The adjustability also makes the gun easier to store safely.
6. Light and Laser Attachments
Consider installing a high lumen flashlight in the front of the handguard. A flashlight not only can help you illuminate a dark space and navigate around your house, but it can also help you identify the target safely while blinding your opponent.
Other Things to Consider
Along with parts, think through the additional supplies and preparation you may need for a quick response in an emergency.
Cartridge: When it comes to cartridges, it's essential to select the right ammo to stop the threat without completely passing through them and risking a bystander's safety. To ensure the bullet's stability as it leaves the barrel, choose cartridges that fit your barrel's twist rate, based on the bullet's weight in grains. When it comes to the type of bullet you need, a round using a full metal jacket (FMJ) projectile is typically inexpensive and works well for training. Hollow points are ideal for self-defense, as they can cause more damage while lowering the risk of complete penetration and injury of a neutral party.
Training: To be thoroughly prepared, ensure that you have training on techniques to protect yourself and your property. Many local police departments and other agencies offer training courses to help you prepare for and handle home intruders. You and your family should form a plan on who will do what and how to stay safe during a home defense situation.
Environment: Awareness of your surroundings is essential to an effective threat response. If you faced a threat to your home, think through where you would keep supplies, where you could barricade yourself and how you could navigate open spaces in your home to evade harm.
Trust Wing Tactical for Firearm Components You Can Depend On
Wing Tactical works to provide reliable, trustworthy gun parts for everyone from police and military personnel to target shooters to survivalists. We understand that the products we sell could be the difference between life and death, which is why we're dedicated to only selling what we would use ourselves. We're a team of experienced shooters with the expertise to deliver products you can trust.
Browse our product offerings today to build your ideal home defense AR-15, or contact us to learn more.
Related Articles