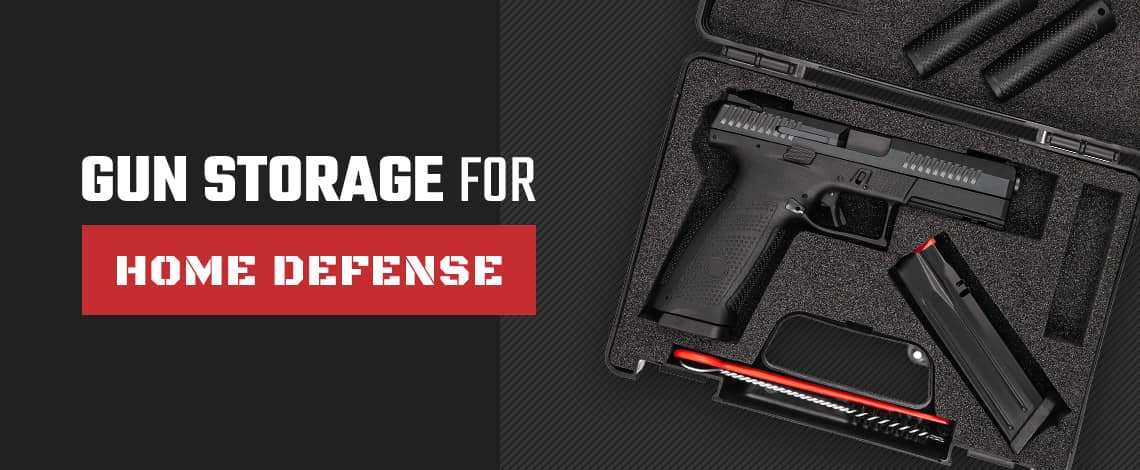 As a gun owner, you've probably thought about how you'll use your gun in extreme situations such as break-ins or robberies. During these events, you want to get to one of your guns as fast as possible to defend your home and family.
Though speed is critical in a home defense situation, many homeowners choose to store their guns in a single, large gun safe. These safes are often too big to hide and too cumbersome to access quickly, potentially exposing you to risk as you try to access your firearm.
If you want to make sure you can protect yourself effectively, you should consider decentralizing your storage when determining how to store a home defense handgun. Doing this will ensure you have guns strategically placed throughout your home, putting personal protection within reach no matter where you are.
When Do Home Invasions Typically Occur?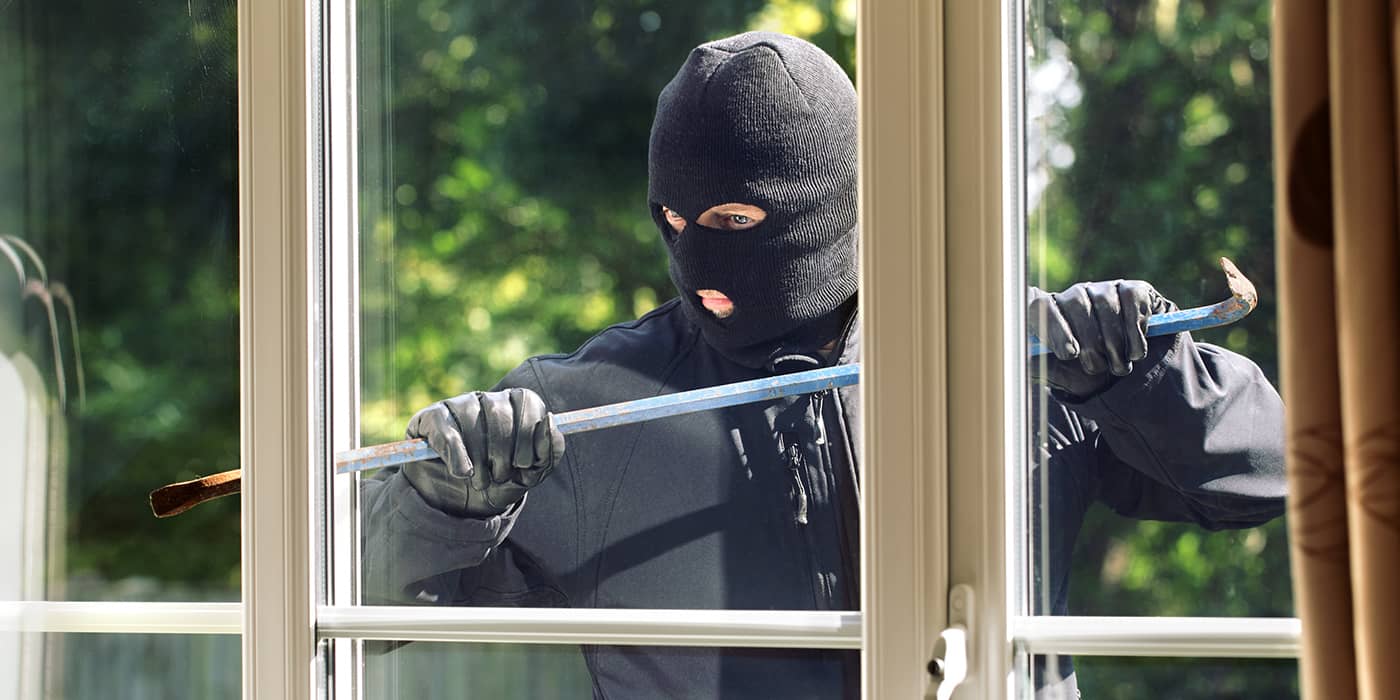 Whether in a bustling city or a quiet suburb, your home is always susceptible to break-ins and burglaries. The Bureau of Justice conducted a study spanning from 1993 to 2010 to determine when a home invasion is most likely — the results show a significant increase in break-ins during the summer compared to cooler months. Many of these burglaries took place during the day from 10 a.m. to 3 p.m., when homes are likely to be empty while residents are at work or school.
Rarely are these break-ins planned, as impulsive individuals tend to jump at an opportunity during an ideal time. Statistics also show that burglars are usually in and out in under 10 minutes with your electronics, cash, medicine and jewelry. Understanding when and how these burglaries typically occur is powerful information that may help you, your family and your valuables remain safe and protected if you find yourself in these situations.
What Are the Best Locations to Store Guns for Immediate Access?
Many Americans use guns to protect their homes and families. While many homeowners install single compartments for home defense gun storage, it's much more beneficial and efficient to have several firearms in various places to ensure rapid access during an emergency.
It's essential to consider your home's layout and determine the areas where you spend the most time, as these signify the most suitable locations to store a gun. Whether it be your living room or bedroom, you'll want to ensure you have a firearm at your disposal even if you are cut off from one during a burglary.
Rather than leaving guns unsecured around your home, you can obtain hidden gun safes for discreet storage. There are many types and models out there, allowing you to store your firearm in a wide variety of places safely. If you're wondering where to keep your guns for home defense, consider some of these proven places to install a quick-access safe:
Kitchen: Burglars aren't too interested in what you have in your fridge or pantry, so they typically avoid searching through them. This makes your pantries or under-the-counter spaces fantastic locations for smaller, hidden safes. Plus, the kitchen is often a place in the home where residents spend large amounts of time.
Master bedroom: Though some criminals prefer to strike during the day when the house is empty, the limited light makes nighttime another prime opportunity for would-be intruders. A common storage location for many gun owners in their bedrooms is beneath the bed, allowing on-the-spot retrieval of a firearm if they hear a noise at night.
Living room: Whether you're watching TV or reading your favorite book, you're probably doing so in your living room, which makes it perfect for lounging, relaxing, and storing a gun or two. Stash a home defense handgun next to your couch or within a cabinet safe to keep it on hand.
On your person: Of course, the most convenient location for knowing where your firearm is and using it at a moment's notice is in your holster. With a comfortable concealed carry solution, you'll always have a gun on hand.
Ensure Your Guns Are Secured
Finding the perfect location for your home defense gun storage is all about balancing security and convenience. In emergencies, you want to be within reach of your gun to retrieve it quickly. However, you don't want your guns to be sitting loosely on tables or within drawers, as this can drastically increase the likelihood of accidents.
The hidden gun safes you use throughout your home should be reliable, heavy-duty equipment, ensuring your firearms are secure and protected. At a minimum, your gun safes should be constructed using 14-gauge or 12-gauge steel to help them withstand any potential damage. If you choose safes with programmable keypad locks and backup keys, make sure to use memorable numbers you'll recall quickly. It may also be helpful to select pry-resistant models you can bolt to a wall or floor, preventing theft of the entire unit.
Where NOT to Store Guns
How you store home defense guns will affect how safe you feel in your home, so your storage locations should give you confidence in your firearms' security and usability. As such, there are some areas you should avoid when deciding where you should keep your guns for home defense. Following this guidance will help ensure that your firearm remains properly functioning, easily accessible and safe from the reach of unauthorized people.
Moisture-absorbing gun cases: If your gun is exposed to moisture, it may develop rust or corrosion that could cause damage and leave it inoperable. For that reason, bags and cases made from absorbent materials like leather, plastic, fabric or cardboard are not ideal for long-term storage.
Hard-to-reach areas for adults: When emergencies pop up, you want to be able to grab your gun as quickly as possible. If you store your firearms in places like your basement or garage, it may take too long to retrieve them successfully.
Nightstands: These bedside tables offer instant use of your gun in emergencies. However, if you have kids running around your home, the lack of security you get with a nightstand could create a dangerous situation. Plus, you might accidentally grab your gun if you reach for a glass of water or your phone in the middle of the night.
Out in the open: Massachusetts is currently the only state requiring gun owners to lock their firearms in a safe when they're not using them. If you live in any other state, you may be tempted to leave yours unattended anywhere in your house. While this will allow easy access for you, the same goes for anyone else, so it's a highly risky decision.
Shop Wing Tactical to Improve a Handgun or AR-15 for Home Defense
As a homeowner and gun owner, it's your right to use your guns to protect your property and family. At Wing Tactical, we want to help you fulfill that right with the highest-quality firearm parts and accessories. Everything we sell lives up to the standards of our experts — we only stock items we would trust on our own guns.
Shop our inventory to find what you need to build a home defense AR-15 or upgrade your handgun to better protect your family. Feel free to contact our team with any questions if you need assistance.