Description
MPN: SI-AR10-SHIFT
Features:
Less steps needed to remove pins
Textured pin heads eliminate the need for a pin punch
Locks into place securely
Innovative QD rotation feature for quick rifle assembly and disassembly
Comes with enhanced detent pins for easier assembly and removal
Improved corrosion resistance
Available in Black, Gold, and Chrome
Specifications:
Material: Steel
Weight:

Takedown Pin

: 0.32 oz.

Pivot Pin

: 0.42 oz.

Finish:

Black

: Black oxide

Gold

: Gold plating

Chrome

: Chrome plating

Length:

Takedown Pin

: 1.21"

Pivot Pin

: 1.67"
Compatibility:
**Does not fit ARMALITE AR-10.
**Please refer to the dimensions chart below. There is no guarantee the AR-10 Shift Pins will be compatible with all AR-10/308/SR25 lower receivers due to there are too many difference AR-10 specifications on the market.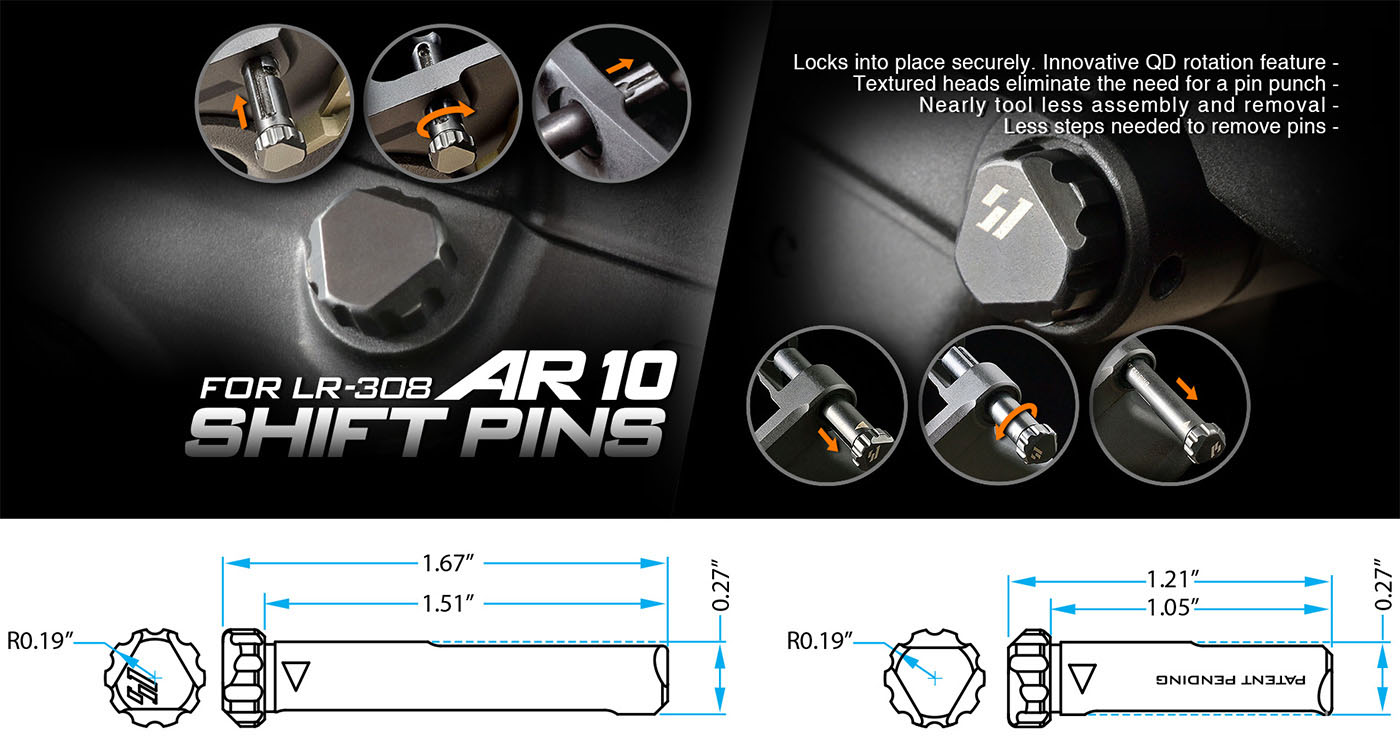 Includes:
1x Strike Industries Shift AR-10 Takedown Pin
1x Strike Industries Shift AR-10 Pivot Pin
2x Enhanced Detents
Details:
What would you give to make your life simpler? Anything that costs you time ultimately costs you money, you can replace money, however, you can never replace lost time. I know you love your AR-10 and breaking it down is really not that bad. Then that tiny detent pin disappears and you waste time searching for it in vain. If you don't have a spare your day is over, now you're wasting time and money. You don't need a new detent pin, what you need is a set of AR-10 takedown pins made by Strike Industries.
All AR10 Takedown Pins Are Not Created Equal
Yes, the factory AR10 takedown pins will hold everything together, however, it takes time to get it apart and there goes that money thing again. If you spend a little money now on a set of AR-10 Shift Takedown Pins you'll save a lot of time later. Strike Industries AR-10 takedown pins are uniquely engineered to require almost no tools to work with. All you need is a small mechanic's flathead screwdriver to do the deed and didn't lose one single detent pin, and they hold tight.
All Companies Are Not Equal Either
Your new AR-10 takedown pins are crafted by Strike Industries. All their products are designed in the United States with the American Shooter in mind, every step of the way. They engineered your new AR-10 Shift Takedown Pins with a goal; fewer steps, faster turnaround, less cost for you, and more time on the range. You'll not find Strike Industries in some country whose name you can't pronounce, they're right here in California working for Americans, like you.