Description
MPN: APVG100031A / APVG100032A
Features:
Feature-packed two-piece muzzle brake
Simple tool-less installation
11-degree target crown for accuracy
Bold four chamber design virtually eliminates recoil
First chamber allows an uninhibited flow of gas to the left and right of the shooter
Three remaining chambers direct the gas backward acting as a buffer to help reduce the side concussion
68RC surface hardness
Self-tightening jam net included
Made in the U.S.A.
Specifications:
Caliber: 6.5 Creedmoor / 6.5 Grendel
Material: 17-4ph Heat Treated Stainless Steel
Finish: Blacknitride or Bead Blasted Stainless
Weight: 4.87 oz.
Length: 2.95"
Outer Diameter:

LAMBDA PRS30

: 1"

Self-Tightening Jam Nut

: 1.15"

Bore Diameter: 0.29"
Thread: 5/8"-24 TPI
Compatibility:
6.5 Creedmoor and 6.5 Gendel barrel with 5/8"-24 thread pitch
Includes:
1x VG6 LAMBDA PRS65 Muzzle Brake
1x Self-Tightening Jam Nut

Details:
Are you interested in wringing every bit of accuracy that's possible out of your rifle? Granted, the barrel, trigger, and even stock you use make a big difference. However, you can't overlook the role that recoil plays in the mix. The VG6 Precision LAMBDA PRS65 Muzzle Brake was created to give you a new way to eliminate the recoil factor in your accuracy equation.
The Future of Precision Is Here
The VG6 LAMBDA PRS65 muzzle brake uses a groundbreaking two-piece design. It uses a lock nut in order to time the position of the brake, fixing it in place. Unlike the traditional spacer or crush washer, this design continually tightens itself with every shot you fire. You can actually install the VG6 LAMBDA PRS65 on your 6.5 Creedmore, 6.5 Grendel, or 6.8 SPC hand tight and not worry about it coming loose.
The VG6 Precision LAMBDA PRS65 Muzzle Brake Is Practically Magic
I know, the recoil from a 6mm rifle isn't going to affect you like its larger .30 caliber brothers do. However, it is enough to mess up your sight picture and your form. There is no doubt that the VG6 Precision LAMBDA PRS65 Muzzle Brake outperforms many muzzle brakes that carry much more weight and bulk. Sometimes a new product is just a gimmick but that's not the case here. The VG6 LAMBDA PRS65 is the new evolution in recoil reduction and precision rifle work. When you squeeze the trigger and your rifle doesn't jump off target, you gain an advantage. When you can focus all of your attention on the shot instead of getting lined back up, then you and your rifle work together as one.
Installation: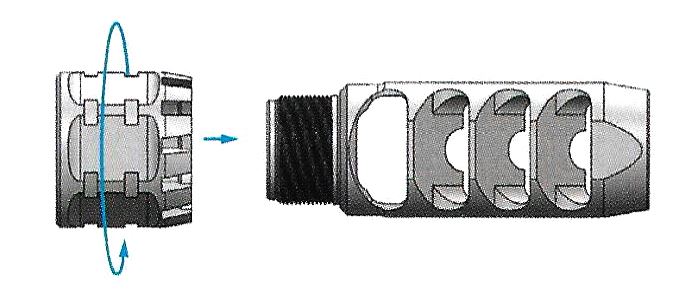 STEP 1: Assemble LAMBDA PRS65 Brake
Screw jam nut onto LAMBDA PRS65 Muzzle Brake until it stops.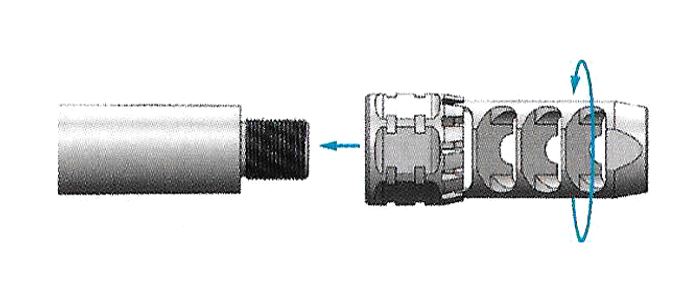 STEP 2: Install Assembly onto Barrel
Screw LAMBDA PRS65 assembly (jam nut installed) on to your barrel until it stops. The jam nut should be touching the barrel shoulder. It helps to turn the muzzle break itself as opposed to the jam nut.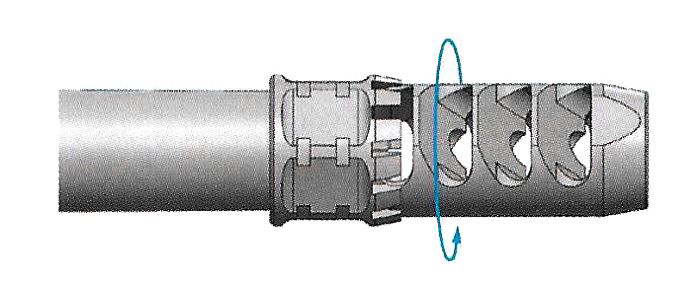 STEP 3: Time The Brake
Unscrew complete LAMBDA PRS65 assembly until the brake achieves proper timing. The logo can be on the top or bottom position with the ports facing to the 3 o'clock and 9 o'clock positions.
STEP 4: Tighten Jam Nut
While holding the LAMBDA PRS65 Brake at the properly timed position, screw the jam nut back down to the barrel until it touches the barrel shoulder, locking the LAMBDA PRS65 Brake in place.
STEP 5: Optional Step
Hand-tightening of the LAMBDA PRS65 Brake is sufficient to secure the brake to your barrel due to the self-tightening port feature of the jam nut which tightens during initial firing after installation. For added security, you may choose to tighten the LAMBDA PRS65 further using 2 crescent wrenches (one holding the brake, the other one tightening the jam nut in opposing directions until tight.