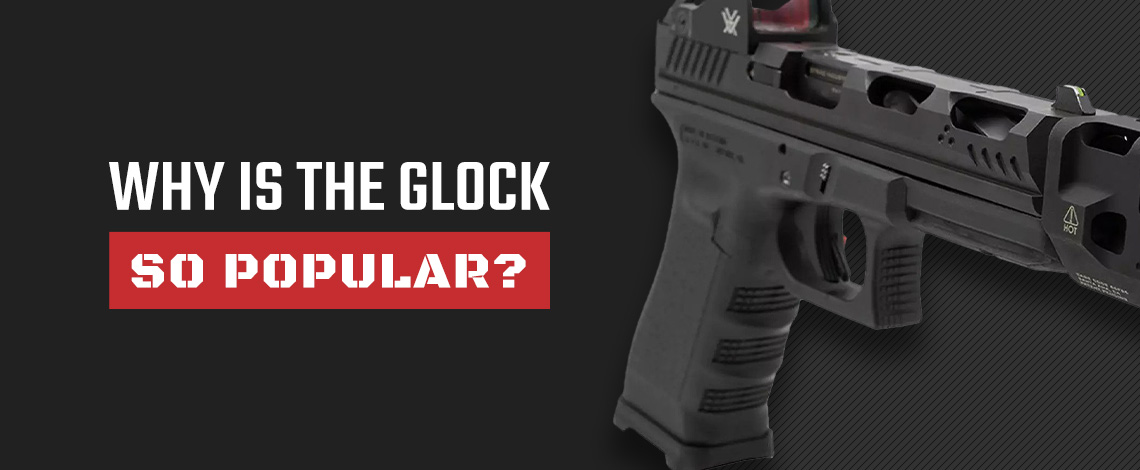 Glocks are one of the most popular pistols on the market. From law enforcement officers to military personnel to civilians, Glock fans are everywhere. But why are these guns so popular? Learn more about the Glock's history and what makes it stand out from other firearms.
History of the Glock
The Glock was created in 1982 by Gaston Glock, an Austrian engineer. The original Glock 17 model — first adopted by the Austrian army — could hold 17 rounds instead of the six common to standard-issue pistols of the day and was significantly more lightweight than other semiautomatic handguns.
The Glock came to America in 1988, coinciding with the rise of the American drug trade. The Glock's large capacity and lightweight design made it a top choice among American police officers at the time.
In the early 1990s, the Glock began to appear in American films, boosting its mainstream popularity. Since then, the Glock has remained a top firearm in the United States and throughout the world.
What Makes the Glock So Popular?
The Glock is world-renowned for its design and performance. Some of the characteristics that make the Glock so popular include:
Lightweight Frame
The Glock was the first firearm built with a polymer frame rather than steel. The polymer construction makes the Glock more lightweight and durable. Today, polymer is the preferred frame material for many pistol manufacturers worldwide.
Reliability
The Glock offers the reliable performance gun owners want. It can fire tens of thousands of shots with minimal jams and withstand incredibly harsh conditions. Original Glocks were designed to survive a 2-meter drop without discharging a bullet. Since then, the Glock has set records by surviving subzero temperatures, being submerged underwater and enduring other extreme environments.
Customization Potential
The Glock allows for countless customizations, giving you exactly what you want in a handgun. You can choose from different barrels, slides, triggers and accessories to make a Glock your own. You can even purchase conversion kits to transform your Glock into a firearm you can shoulder like a rifle.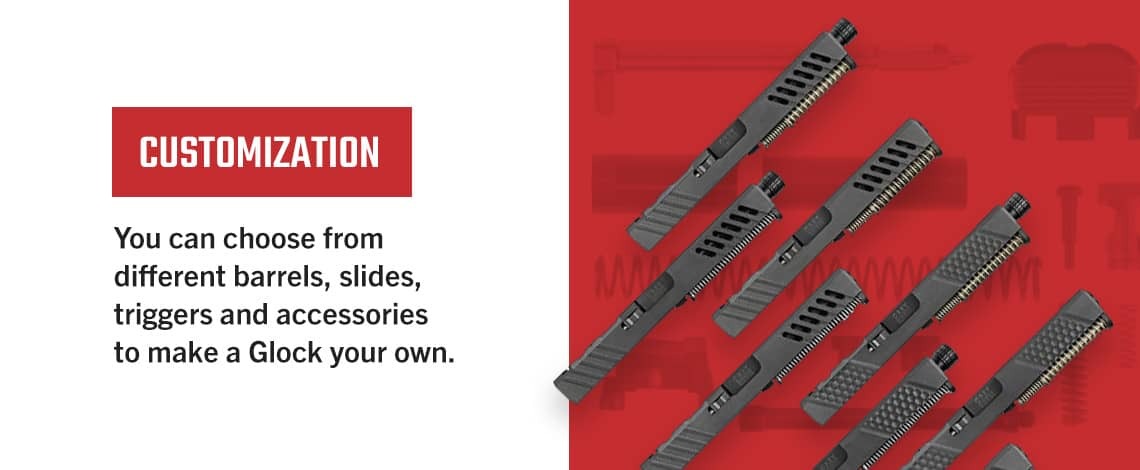 Variety
While the Glock's design hasn't changed much since it was first released, there are still numerous models to choose from in various styles and sizes. Glock buyers also have many caliber choices, including 9 mm, 10 mm, .45 ACP, .40 S&W and more.
Ease of Use
Glocks have a simple design with easy-to-use firing features. They also have built-in safety mechanisms, minimizing the risk of accidents and giving gun owners peace of mind.
Purchase Glock Parts and Accessories From Wing Tactical Today
Wing Tactical is your trusted source for Glock parts and accessories. We offer industry-leading products at competitive prices. What's more, everything we carry at Wing Tactical was hand-selected by an experienced shooter. We can help you find the right products for your needs, and we'll never sell you anything we wouldn't use ourselves.
When you buy from us, you'll also benefit from next-day shipping on all orders and 30-day, hassle-free returns.
Browse our online inventory or get in touch with us today to learn more.
Additional Glock Resources