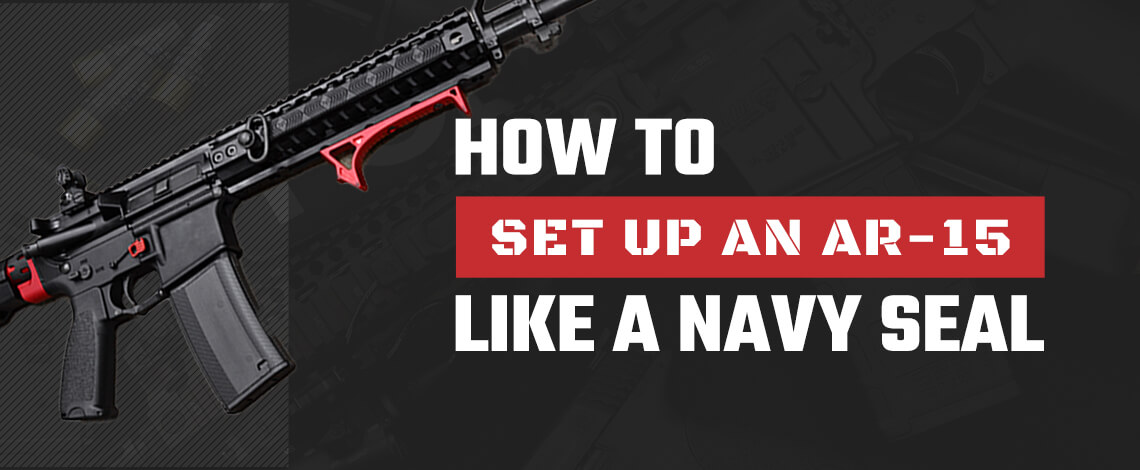 The AR-15 is the civilian legal version of the M4 — a weapon used by many U.S. military units, including the elite operators who belong to SOCOM (Special Operations Command). Since the introduction of the M4 in 1994, Navy SEAL teams, including SEAL Team 6 (DEVGRU) assault teams, have taken these rifles on operations across the globe. While the M4 is reserved for military and government use, you can set up your AR-15 to create a close replica of the weapon used by our nation's best military forces.
At Wing Tactical, we carry everything you need to build your AR-15 like a Navy SEAL. Explore our parts selection or reach out to our team of experienced shooters who can help you outfit your gun.
Creating a Special Forces AR Setup
Today, there's no shortage of ways to customize an AR-15. From stocks and grips to red dots and lasers, there are endless aftermarket accessory options.
Since these rifles are modular, you can add parts and accessories for a configuration that works best for you just like special forces. If you want to set up your AR-15 like a Navy SEAL, you have many ways to do so — there are plenty of add-ons that provide improved function and a clear field of view, which are crucial to a special forces AR-15 setup.
At Wing Tactical, we sell a variety of accessories you can combine to give your firearm the same look and feel as an AR-15 used by a Navy SEAL, with aftermarket parts that customize your upper and lower receivers to create your ideal special forces setup. Below, we break down how to upgrade your AR-15 components to achieve a special forces build.
Keep in mind that ownership laws for AR-15s and their components vary by state, and for some accessories, you will need to apply for a Class III Tax Stamp from the Bureau of Alcohol, Tobacco and Firearms for permission to own.
Setting Up the Upper Receiver
Starting with the upper receiver, the easiest way to set your AR-15 up like a Navy SEAL is to buy a stripped upper receiver you can customize from the start, but if you already have your rifle, you can still swap most of your parts for the build you want. The upper receiver contains multiple components, including:
Setting Up the Lower Receiver
To balance out your upper, you will want to modify your lower receiver with improvements similar to those used in SEAL team armories. Upgrades you can install on your AR include:
Pistol grips: Upgrade to an ergonomic pistol grip for faster trigger acquisition and improved control. Aftermarket pistol grips can lessen fatigue and make your AR-15 easier to handle. They allow you to get into your shooting stance faster and line up your shot to make more rapid, accurate follow-up shots.
Collapsible stocks: Switch to a collapsible stock to reduce the weapon's profile and compensate for gear. You can adjust the length of a collapsible stock to match your gear, giving you better mobility for maneuvering in tight spaces. Collapsible stocks come in various styles and configurations, so you'll be able to find one that perfectly suits your style and setup.
Trigger groups: Install a new trigger group for reduced pull weight and a faster reset. With a two-stage adjustable trigger, you can set the pull weights of each stage to your preference for a predictable shot. When you use a single-stage trigger, the mechanism engages as soon as you provide the required pull weight, making the pull fast and crisp for maximum accuracy.
Adding Accessories
Whether you have short-barreled personal defense weapon (PDW), a long barrel AR-15 for target shooting or another custom configuration, the right accessories are necessary to complete your build. Adding accessories can offer a variety of advantages, including improved performance, handling and weapons retention. To give your AR-15 the same look and versatility as those used by the SEALs, consider adding:
A bipod or monopod
Upgraded magazines
A sling and sling adapter
Lights and lasers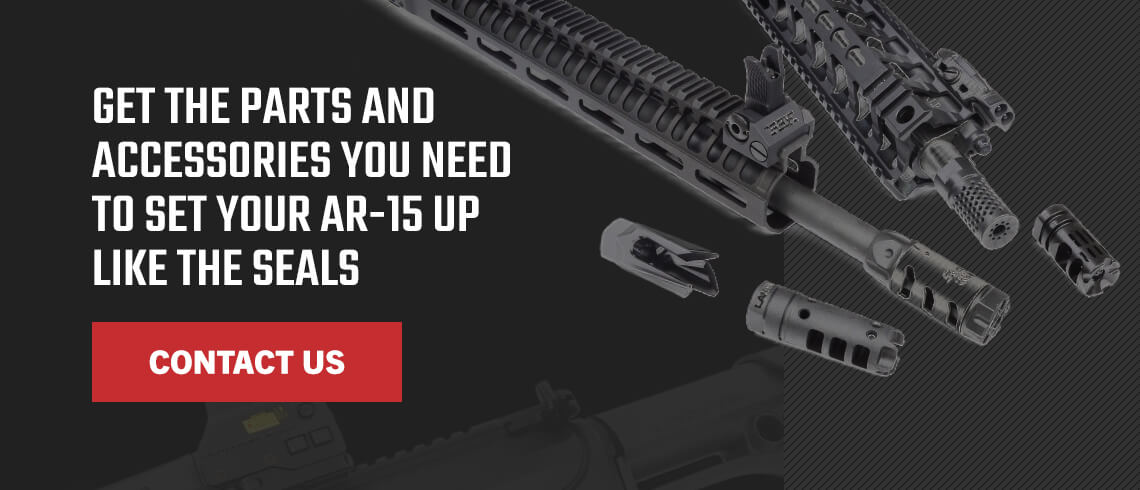 Get the Parts and Accessories You Need to Set Your AR-15 Up Like the SEALs
To set your AR-15 up like a SEAL, visit Wing Tactical and choose from a wide selection of upgrades you can use to create the perfect build. At Wing Tactical, we are veteran-owned and we are shooters too — we only sell products we would use ourselves. For help putting together your build, please message us online.
Additional AR-15 Build Resources