Best-Rated AR-15 Gas Block
Updated January 10, 2023
The gas block is one of the most underappreciated contributors to a gun's recoil, ease of use and cleanliness. It is responsible for how much hot gas escapes from the barrel when you shoot, which, in turn, will affect lots of physical processes when you pull the trigger
However, did you know that upgrading the gas block that comes standard on the AR-15 with a new gas block can improve your gun's performance and reliability dramatically?
As it turns out, the gas block is a critical link in the chain that is too often overlooked. A high-quality standard gas block can ensure your AR runs reliably, while switching to an adjustable gas block allows you to tune your gun's performance for different types of ammo, reduce recoil and get to your next shot in less time.
We'll take a look at the top-rated AR-15 gas blocks, as well as dive a bit deeper into how this simple but powerful upgrade can take your shooting and handling to the next level.
Table of Contents
Basics of
Gas Blocks
As an AR-15 owner, you are likely somewhat in tune with the inner workings of the gun. It is a stunning feat of engineering that borders on artistry — and the gas block is one of the unseen workhorses behind its operation. Let's look at how gas blocks operate, the workings of standard versus adjustable gas blocks and what sizes they come in.
What Is a Gas Block?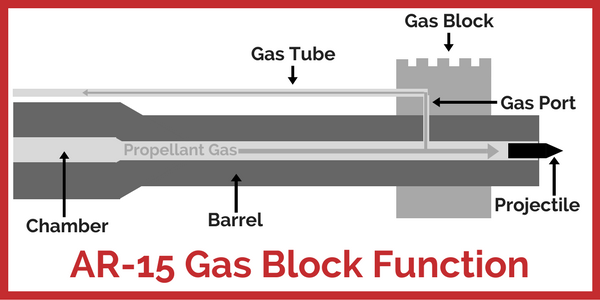 The gas block is the component that fits over the small hole on the top of an AR-15's barrel. As gunpowder in the cartridge explodes and drives the bullet through the barrel and past this hole, some of the hot gas escapes through it. This hot gas enters the gas block and then gets directed down the gas tube.
The gas tube directs this hot gas back in the direction of the shooter, where it is driven down into the receiver. There, its pressure pushes the bolt backward, which is what extracts the cartridge and gets the system ready for the next shot.
Now, back to that gas block. You can think of it as the valve that controls how much hot gas gets directed back into the receiver. The gas block on most of the factory AR-15 is fixed. This means that no matter what ammo you use and what specs you have your gun set to, the same amount of gas is allowed into the gas tube. This has obvious drawbacks if you use a different weight BCG, suppressor or buffer. By only allowing a certain amount of gas through, it's optimized for one out of an infinite number of setups.
The magic happens when you install a higher-quality gas block — even a non-adjustable one. Let's explore the differences between a standard and an adjustable gas block.
Standard vs. Adjustable Gas Blocks
A standard gas block allows a fixed amount of gas to travel through the tube — typically more gas than is necessary. The justification behind this is that the hot gas carries a lot of carbon with it, which tends to gunk up the interior of the system. Overgassing allows the system to continue working even when it gets dirty. This can lead to increased wear and more difficult cleaning but also makes it easy to operate. Overgassing can also rocket the bolt back with too much force, further strengthening the recoil and putting wear on the part. However, standard gas blocks are still a simple and effective tool beloved by many shooters. A high-quality non-adjustable gas block is best for duty AR builds, it allows your gun to run safely and reliably without having to worry gas setting.
An adjustable gas block, on the other hand, allows you to tune the amount of gas entering the tube. This means the bolt can receive the perfect amount of force, you can decrease how much carbon comes into the system, and cleaning your gun will be a less grueling experience. The possible drawback to adjustable gas blocks is in the name — they are adjustable and therefore require more time and maintenance to operate. However, in return, you'll get less recoil, which allows you to set up for the next shot more quickly.
Because your rifle is fighting the good fight against some powerful momentum, efficiency is everything. Adjustable gas blocks let a direct impingement system work smoothly, while standard gas blocks are best for ease of use.
As you might suppose, gas blocks come in different sizes to fit different barrels. There are two common gas block mounting types: Set-screw and Clamp-on. On both styles, you can tighten them, but the actual curvature needs to match the radius of the barrel. A .750 is standard for barrels of a medium profile. .625 is another common size for pencil profile barrels. Simply shop for the gas block that fits the barrel of your gun.
2023 Top-Rated AR-15 Gas Block
| | | |
| --- | --- | --- |
| Top AR-15 Gas Block | Type | Price |
| Superlative Arms Adjustable Gas Block | Adjustable | $89.99 |
| Master of Arms Titanium Adjustable Gas Block | Adjustable | $150 |
| Odin Works Adjustable Low Profile Gas Block | Adjustable | $84.55 |
| Aero Precision Adjustable Gas Block | Adjustable | $55.24 |
| Seekins Precision Adjustable Low Profile Gas Block | Adjustable | $57.00 |
| Phase 5 Low Profile Gas Block | Non-Adjustable | $25.99 |
| 2A Armament Ultra-Lite Titanium Gas Block | Non-Adjustable | $64.39 |
| Faxon Firearms Ultra Low-Profile Gas Block | Non-Adjustable | $28.49 |
| Odin Works .750 Low Profile Gas Block | Non-Adjustable | $27.55 |
| CMC Trigger Low Pro Gas Block | Non-Adjustable | $39.99 |
Best AR-15 Gas Blocks
Below we compiled more details and everything you need to know about of these best-rated AR-15 gas blocks on the market this year. Also for the sake of this product review we have divided the top-rated gas blocks into two categories; adjustable and non-adjustable.
2023 Product Review:
Best-Rated AR-15 Adjustable Gas Blocks
Superlative Arms Adjustable Gas Block
The AR-15 is a weapon that is as versatile as it is sleek. That means those of you with a creative bent will doubtlessly begin fine-tuning it to your liking — which means you'll be needing an adjustable gas block to go on the ride with you.
Superlative Arms has gotten innovative with their Adjustable Gas Block. This innovative bleed-off gas block not only allow you to adjust the amount of gas cycle back into the gun, it also allows you to bleed-off excessive gas out from the front of the gas block. What is the benefit of this? When using the regular adjustable gas setting, you can reduce or amplify gas flow while still creating a desired pressure in the gas impingement system. That means lower temperatures and less oxidation. When using the bleed-off setting, it will reduce blowback when shooting with a suppressor.
Enjoy the ability to adjust gas flow without having the screw corrode. This product is made of 416 stainless steel, is available in black or matte stainless steel finishes and comes in .625" or .750" diameters.
Master of Arms Titanium Adjustable Gas Block
If you're looking for additional customization capabilities from your gas block, the Titanium configuration from Master of Arms is an excellent choice. It is constructed from aerospace-grade titanium to provide a lightweight, durable solution that performs under harsh conditions. Including the screws used for attachment, this block weighs just .6 ounces. You can order yours with a Black Tetrabond finish or in bead-blasted raw titanium to match the look of your rig.
There's no need for a liquid thread lock when installing this piece, thanks to its intuitive clamp-on mounting design that firmly secures to your firearm using one 8-32 screw and a Belleville washer. Once you have it in place, you'll be able to modify your gas system to effortlessly match the ammunition you're using or the amount of gas you need, ensuring your system operates and cycles smoothly.
This model is expertly crafted to endure reliable performance in any conditions. Master of Arms uses top-of-the-line CNC machines to ensure precise and hard-wearing construction that you can stake your life on. For convenience, this gas block is compatible with AR-15 and AR-10 barrels with a diameter of .625 or .750 inches at the gas port.
Odin Works Adjustable Low Profile Gas Block
Building on the unobtrusive height of their gas blocks, Odin Works released their Adjustable Low Profile Gas Block. This piece of equipment is instantly configurable with suppressed and unsuppressed setups, as well as with other variations in rifle componentry.
This gas block will work wonders on your AR-15. You can use it to dial the cycling of your rifle to perfection by allowing more or less gas into the gas key. Finding the sweet spot will reduce carbon build-up, make the bolt engage perfectly and lower the wear on the rifle's critical parts. And with 20 adjustment points, Odin Works' Adjustable Low Profile Gas Block is endlessly tunable.
This gas block is made of carbon steel with a black nitride finish, includes set screws and a roll pin and comes with the necessary wrenches. It is available in .750".
Aero Precision Adjustable Gas Block
Fine-tune your competition build and take your rifle to the next level with the Aero Precision Adjustable Gas Block. This gas block reduces recoil and allows you to customize your rifle to fit your ammunition and unique shooting style.
The Aero Precision Adjustable Gas Block separates itself from the competition with many unique features. It offers 15 gas-adjustment settings thanks to its custom-machined adjustment screw. A spring keeps the adjustment screw in place, eliminating the need for additional set screws. You can easily adjust this gas block to fit a new load when changing your ammunition, ensuring your AR continues to function smoothly.
The Aero Precision gas block also prevents carbon locking by funneling carbon fouling into the sacrificial chamber. Using this gas block with a suppressor provides even better gas management to eliminate excess blowback.
This gas block will fit most free-float handguards, as it matches the same profile as standard low-profile gas blocks. It also has a user-serviceable design, so cleaning and servicing the gas system is quick and easy.
Seekins Precision Adjustable Low Profile Gas Block
Seekins Precision has created one of the highest-quality gas blocks on the market with their .750" Adjustable Low-Profile Gas Block. This steel component features a melonite finish and an adjustment screw for setting the perfect level of gas flow. Two setting screws keep it in place, while its low profile makes it ideal for anyone with a slimmer rail system.
2023 Product Review:
Best-Rated AR-15 Non-Adjustable Gas Blocks
Phase 5 Low Profile Gas Block
The Phase 5 Low Profile Gas Block is a fantastic upgrade to your AR-15, offering high performance at an affordable price. It is machined using strong 4140 chromoly steel and coated with phosphate to increase corrosion resistance. Phase 5's engineering team built this block for durability and minimal weight thanks to its unique window cuts.
Whether you're active in the range or the field, the sturdiness and strength of this steel alloy gas block offer extreme dependability. You can pair it with an AR-15 or an AR-10 barrel with a diameter of .750 inches at the gas port area. Options include set screw installation and a clamp-on style that stays secure even if your barrel lacks block dimples.
Its low-profile design enables it to fit beneath most free-floating handguards so you can confidently enhance the performance of your firearm. With this configuration, you can easily mount additional accessories toward the muzzle, such as a light or grip. This gas block also lets you establish the longest sight radius possible to help improve accuracy and tighten your groupings.
With only two set screws or a simple adjustment to the clamping mechanism required for a secure, long-lasting attachment, your new Phase 5 Low Profile Gas Block will be up and running in no time.
2A Armament Ultra-Lite Titanium Gas Block
Another beast made of titanium, 2A Armament's Ultra-Lite Titanium Gas Block is both strong and lightweight. In fact, it is about 60% of the weight of similar steel gas blocks. This makes a big difference when those minutes turn into hours in competitive shooting or hunting.
The low-profile design of 2A Armament's titanium gas block allows it to live comfortably under the AR-15's handguard. With the two screws locking it in place, you also have the power to keep it secure. One great trick is to use blue locking compound to fix the screws. This way, you'll never have to worry about it moving around. A dimpled barrel is another excellent way to keep it secure.
This lightweight, sturdy gas block is available in both .750" and .625" diameters.
Faxon Firearms Ultra Low-Profile Gas Block
Gas impingement systems rely on delicate yet sturdy components doing their jobs with split-second timing. A gas block is the principal component of the whole operation. The complication arises in that it has to fit underneath a handguard, a part of your gun that needs to be slender and comfortable without compromise.
Here to solve the problem is Faxon Firearms' Ultra Low-Profile Gas Block. This item is made from high-quality steel with a beautiful black finish. Three tightening screws hold it in place. Despite its tough steel makeup, it is also gloriously lightweight, allowing you to keep your strength up for long periods of time. Its efficient design allows it to fit under the most ergonomically-designed handguards on the market.
These Ultra Low-Profile Gas Blocks are available for both .625" and .750" barrels. At just over one inch tall, they will fit underneath most rails as well.
Odin Works .750 Low Profile Gas Block
Odin Works has surmounted a significant problem in the field of gas blocks with the .750 Low Profile Gas Block — they have made it low-height. With its small profile, this gas block allows users to install whatever free-floated handguard they prefer. It will not get in the way of rail systems and will perform beautifully with heavy use.
Made of carbon steel and coated with nitride, this component will stay put when the percussion of gunfire might shake others loose. If you are looking for more flexibility on the forend of your rifle, check out this low-profile gas block.
It is also reasonably priced. This gas block is available for .750"-diameter rifle barrels.
CMC Trigger Low Pro Gas Block
The CMC Trigger Low Pro Gas Block is ideal for users who want a streamlined look and don't need the standard AR-15 A2 front sight. Its ultra-low profile design is compatible with many free-floating handguards, without any modifications. This gas block also accommodates rifle-length forearms on carbine-length barrels for a clean appearance with added gripping surface.
The CMC Trigger Low Pro Gas Block offers unbeatable durability and longevity. It's milled from 17-4PH stainless steel, providing exceptional corrosion resistance. It also has a black nitride finish for even greater resistance to corrosion, wear and inclement weather. What's more, it's heat-treated to condition H900 for extreme heat resistance.
This narrow, one-piece gas block fits barrels with 0.75-inch diameter gas seats. It comes complete with a gas tube roll pin and two set screws that hold the gas block securely in place.
Make your gas system as strong and reliable as possible with the CMC Trigger Low Pro Gas Block.
Other Gas System Upgrades for Your AR-15
While you're at it, there are two other upgrades you should consider when installing a new gas block. Both will make your gun run more smoothly, more reliably and with less long-term wear and tear.
Gas tubes: If you are using a direct impingement system, these are an essential part of its operation. When hot gases pass through the gas block, they inevitably must then travel through the gas tube to the receiver. They are subjected to extreme pressure, high temperature and lots of dirty carbon. Therefore, it's crucial that they be able to handle all three with grace. Upgrading to a higher-quality gas tube will resist corrosion and gunk and make your rifle easier to clean.
Piston Kit: Another sleek upgrade to your AR-15 is the piston kit, an alternative to the direct impingement system that works with less heat and fewer corrosive elements. It's a worthwhile investment if you're looking to make your operation a bit cleaner.
Come To Wing Tactical To Give Yourself an Edge
At Wing Tactical, we have a vast selection of rifles, components and supplies for you to choose from. Whether you are military, law enforcement, a hobbyist or a competitive shooter, we are your source for weapons and tactical gear. Check out our extensive selection of gas blocks, as well as upgrade kits and other products. Everything we sell is new and backed by a 30-day money-back guarantee.
So come to Wing Tactical and put yourself ahead of the rest. We've got the gear to take you there.