LANTAC USA
LANTAC USA is well-known for its high-quality firearm parts and accessories. From the Dragon muzzle brake to the enhanced bolt carrier group, there is something for everyone. 
LANTAC Dragon Muzzle Brake - Total Muzzle Control
Their Dragon muzzle brake is manufactured to the highest standards in the industry. The patent-pending muzzle brake is designed to combat the negative effects of recoil on the shooter's precision and accuracy. Muzzle brakes operate based on the principle of Newton's Third Law of Motion: "For every action, there is an equal and opposite reaction." The unique Short Energy Pulse system used in the Dragon reduces the length of the recoil, thereby preventing repeat shot energy from overlapping and knocking the shooter off target. This compensator also reduces flash signature.
LANTAC Enhanced Bolt Carrier Group - Cooler, Cleaner, Smoother
The Enhanced Bolt Carrier Group (E-BGC) by LANTAC is designed for the full-auto M16 platform. The newly-designed bolt carrier group is machined from 8520 steel with a shot-peened bolt. Magnetic particle inspection ensures the quality of the piece. The entire assembly is made using electroless nickel boron coated with the patented UCT EXO process. This process offers enhanced lubricity over similar products using NiB coatings. The entire bolt carrier system has been redesigned to permit smoother, cleaner operation. The LATNAC BCG is also compatible with suppressed systems. Properly staked gas keys and grade eight fasteners help ensure the quality of this product.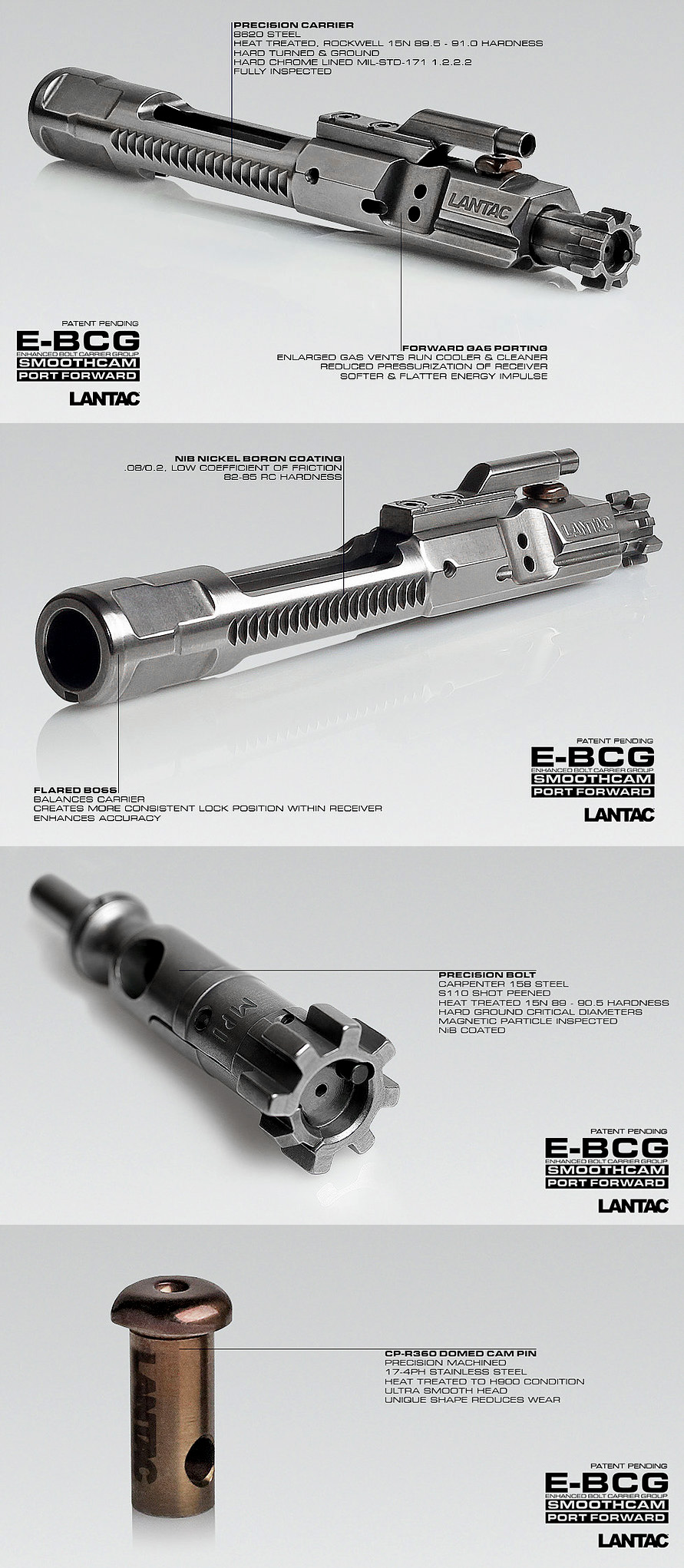 If you're looking for a gas block for your AR-15 and want one that's unobtrusive and streamlines your firearm, check out the LANTAC .750 Low-Profile Gas Block. This is one of our extremely popular LANTAC AR-15 parts for those who don't need the standard AR-15 A2 front sight. This is a no-nonsense gas block that allows you to install handguards without any special modifications, that you can lock into place with two set screws, and that features a Type-M black phosphate finish that looks great and protects it from extreme weather conditions.
People who know the LANTAC USA name know our reputation for quality. You'll find a wide range of reliable LANTAC parts, from handguards, gas blocks and muzzle brakes to rifles and other rifle accessories. Each LANTAC item we sell is carefully scrutinized to make sure they meet the high standards of discriminating gun owners, whether you're talking about LANTAC AR-15 parts or other LANTAC parts, such as accessories for M16 or M4 styled rifles.
Since we sell rifles as well as accessories, we have a better sense than some others as to what parts will be the right fit, and we only sell parts that we know you'll be proud to have enhancing your firearms. A commitment to quality, a variety of parts and accessories (including all that you need to complete your ideal AR-15), and a belief that every gun owner has the right to the finest weapons they can get their hands on are what characterizes LANTAC parts and accessories.
LANTAC remains one of the top producers of firearms products today with dealers across the nation. The company continues to provide high-quality handguards, receivers and gun parts to its customers.