Updated 9/17/2020
AR-10 and AR-15 have traditionally been two of the most popular rifles for military use, sporting and target shooting. Contrary to popular belief, the AR does not stand for "assault rifle" or "automatic rifle." It actually is an abbreviation for Armalite Rifle, the firearms manufacturer that first developed the AR platform in the mid-1950s. While they look similar, the AR-10 and AR-15 are different in several important aspects.
AR-10 is a specific weapon model that made by Armalite. Nowadays when people say AR-10, they don't necessarily refer to the Armalite AR-10. The term "AR-10" has became the general name for AR-15 style rifles that chamber in .308 caliber. To avoid confusions, in this article, we will refer all .308 AR platform rifles "AR-10".
Unlike AR-15, some AR-10 parts are not interchangeable between brands. In today's market, Armalite style and DPMS style are the two most popular specification that manufacturers use when making AR-10s. These two AR-10 platforms are not the only .308 AR platforms available but they do dominate the market. When choosing parts for your AR-10, you should first find out which AR-10 style it is so you don't have to stuck with the wrong part.
In this post, we'll provide an AR-10 vs. AR-15 comparison, including which parts are and are not interchangeable.
Table of Contents
AR-10 Basics
One of the first things you'll notice when you pick up an AR-10 for the first time is its surprisingly light weight compared to other .308 semi-auto rifles. This is due to its direct impingement design instead of the piston-driven design that's found on most other .308 semi-auto rifles. Depending on the model, it will weigh from 7.25 to 8.9 pounds without the magazine. AR-10 features include the ability to accept detachable magazine, an adjustable front sight for accuracy at elevation, an adjustable rear sight for windage, an aluminum alloy receiver, in-line stock and pistol grip. The top picatinny rail on the AR platform offers a perfect mounting solution for variety of scope, red dot or holographic sights.
AR-15 Basics
The AR-15 is essentially a modified version of the AR-10 that was developed in the late 1950s. The AR-15 is even lighter than the AR-10, with models weighing from 5.5 to 8.5 pounds. Since the AR-15 is lighter, it allows shooters to maneuver quicker. However, the benefits of a lighter weight stop at the rifle itself. The AR-15 is chambered in 5.56 NATO / .223 Rem, and the small size of this cartridge gives you the ability to carry more rounds on a person or rifle compared when to the .308 WIN, which is bigger and heavier. There are numerous magazine manufacturers making magazines capacities up to 100+ rounds for the AR-15. Another noteworthy difference between the AR-10 and AR-15 is its softer recoil, which leads to quicker and more accurate follow-up shots.
What's the Difference Between AR-15 and AR-10
One of the most obvious differences between the AR-10 and the AR-15 is the caliber. The AR-10 utilizes the .308/7.62x51, while the AR-15 uses the .223/5.56 x 45 cartridge. The lower receiver and other key components on the AR-10 are also somewhat larger than on the AR-15, which accounts for the slightly heavier weight. With the AR-10, there is more space between the pistol grip and the edge of the lower receiver. The AR-10's magazine walls are also larger to accommodate the larger rounds.
AR-15/AR-10 Compatibility
Because of their similar design, there are some interchangeable AR-15/AR-10 parts. However, the size and caliber difference makes certain parts incompatible. To complicate the issue, the AR-10 and AR-15 are now made by numerous manufacturers including Armalite, Black Rain Ordinance, Seekins Precision and others, with each company producing its own unique versions. This makes direct comparisons somewhat challenging. For instance, certain companies make the original Armalite-style AR-10 rifle, while others use the DPMS format.
Parts that are typically compatible between the AR-15 and AR-10 at a glance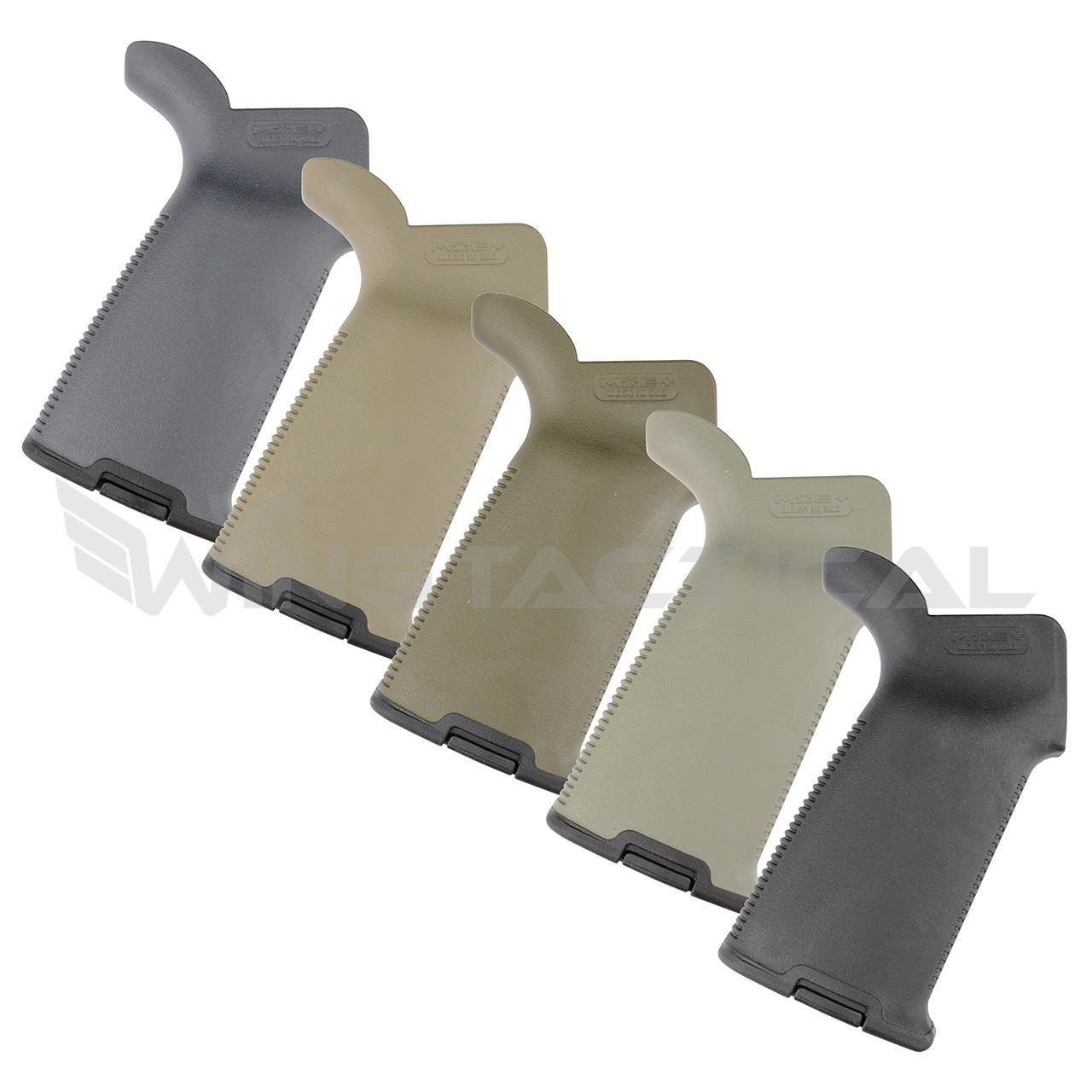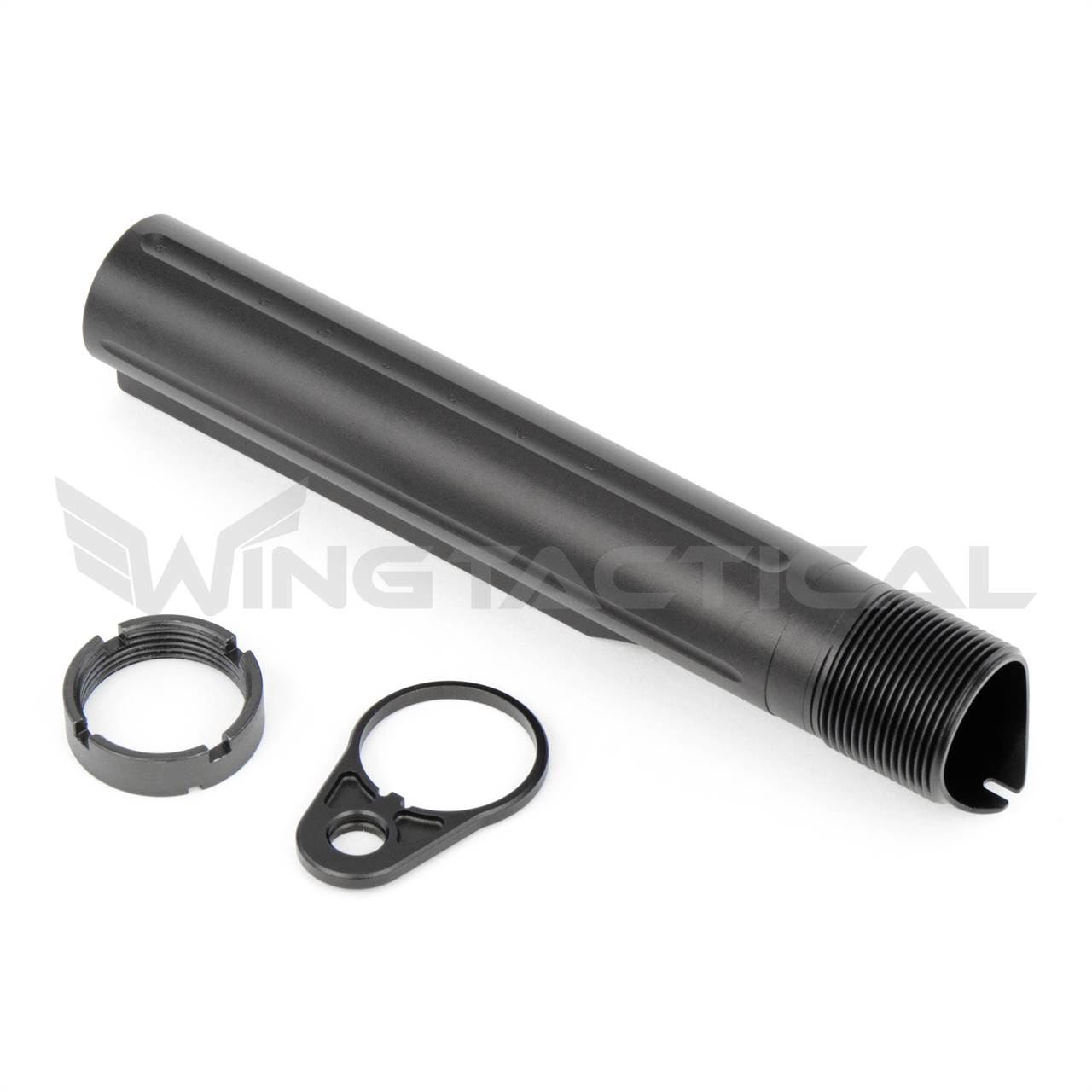 Parts that are typically not compatible between the AR-15 and AR-10:
Rifle Buffers: Most rifle buffers on the AR-10 are shorter and heavier than the AR-15 to accommodate the longer .308 bolt carrier group and the force from a larger round. This means they cannot be interchanged. However, the buffer tubes are the same length, making them compatible with either rifle. It should be noted that the buffer tube for the Armalite style AR-10 collapsible stock carbine features a unique length and only works with this model.
Barrels: Because the AR-10 and AR-15 are chambered in two different calibers, the barrels are not interchangeable. The barrels threads and barrel nut extensions are also not interchangeable.
Handguards and rail systems: Because of the barrel nut size difference between the AR-10 and AR-15, the handguards and rail systems are not interchangeable.
Bolt catch: An AR-15 bolt catch is not compatible with most AR-10 lowers.
Lower parts kit: A standard lower parts kit for an AR-15 will normally not work with an AR-10. This is due to the differences in the takedown pin, bolt catch and other lower receiver pins.
Magazine catch: The magazine catch in the Armalite AR-10 features a unique design that makes it incompatible with the AR-15 or any other AR model. (Standard AR-15 magazine catch will fit DPMS style AR-10)
Muzzle device: Since AR-10 and AR-15 are chambered in different calibers, most muzzle devices are not interchangeable, except if your AR-15 is chambered in 300 Blackout, then you might be able to use AR-10 muzzle devices.
Complete list of compatibility between the AR-15 and AR-10 parts
You'll Find the AR-10/AR-15 Parts You Need at Wing Tactical
Wing Tactical is your source for a wide range of AR-10 and AR-15 parts, including interchangeable parts such as pistol grips, trigger springs, safety selectors and many others. All parts come from top firearms manufacturers to ensure the highest possible quality. We only sell brand-new products, never used or refurbished items. You also enjoy peace of mind knowing that we don't sell any product we wouldn't use ourselves.
You can also count on Wing Tactical to deliver world-class customer service. Take advantage of next-day shipping to get your AR-10/AR-15 part as quickly as possible. You can place your order quickly and securely right here on our website. And if you're not completely happy with your part, simply return it to us within 30 days for a full refund.
Check our inventory of interchangeable AR-15/AR-10 parts, and give yourself an edge!